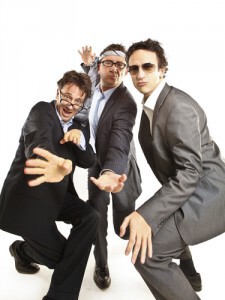 We celebrate entrepreneurship every day at Palo Alto Software but some weeks our enthusiasm is a little harder to contain. Following the president's declaration of November as National Entrepreneurship Month last year, we knew that November would never be the same. And, once we found out that U2's Bono was in on the action, we determined that dancing like rock stars in support of Global Entrepreneurship Week is the new order of business.
Global Entrepreneurship Week is hosted by thousands of partners in over 120 countries from November 12-18, 2012.  As a proud partner, we're offering up two free webinars to support the success of entrepreneurs.
Webinar: Writing a Winning Business Plan 
Winning in business starts with a plan. This free webinar will illustrate the best practices to follow in the creation of a successful lender-ready business plan.
November 14, 2012 1pm – 2pm 
Registration: Sign up to attend, Writing a Winning Business Plan
Webinar: Planning for Restaurant Success 
A special webinar for restaurateurs will highlight how employee training can foster business growth, customer loyalty and reduce the high costs of employee turnover. Join the CEO of Waitrainer to learn vital tips to help improve your restaurant training program.
November 15, 2012 10am – 11am (PST) 
Registration: Sign up to attend, Planning for Restaurant Success 
Please join us this week and invite your friends to learn how our business planning tools and educational resources can help support your business idea. If you can't make it, just do what you can to give props to the dreamers, the visionaries and the hard working business folks who represent the driving force of the economy. 
Click here to join the conversation (1 Comments)
Like this article? Please share it:
How LivePlan makes your business more successful
If you're writing a business plan, you're in luck. Online business planning software makes it easier than ever before to put together a business plan for your business.
As you'll see in a moment, LivePlan is more than just business plan software, though. It's a knowledgable guide combined with a professional designer coupled with a financial wizard. It'll help you get over the three most common business hurdles with ease.
Let's take a look at those common hurdles, and see how producing a top-notch business plan sets your business up for success.
Click to continue