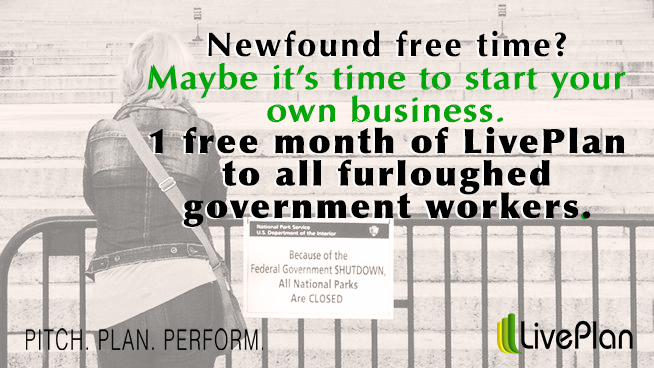 Are you or someone you know a furloughed government worker? If so, we want to help you out.
I bet you have an idea for a business. An idea that you really like, and that you've never had the time to pursue. Why not use this time off from your regular job to start, run and grow your own business? Send us a message at marketing@paloalto.com with your name, the company you work for, your title, and proof of employment (ID badge, website proof, etc.), and we'll send the first 100 people to contact us one free month of LivePlan access.
Don't forget to share the love and this post with your friends and family! #PlanToWin
Click here to join the conversation (0 Comments)
Like this article? Please share it:
How LivePlan makes your business more successful
If you're writing a business plan, you're in luck. Online business planning software makes it easier than ever before to put together a business plan for your business.
As you'll see in a moment, LivePlan is more than just business plan software, though. It's a knowledgable guide combined with a professional designer coupled with a financial wizard. It'll help you get over the three most common business hurdles with ease.
Let's take a look at those common hurdles, and see how producing a top-notch business plan sets your business up for success.
Click to continue