Last week, after I came home from several weeks of travel, I found a curious sign posted to the front door of my local gym: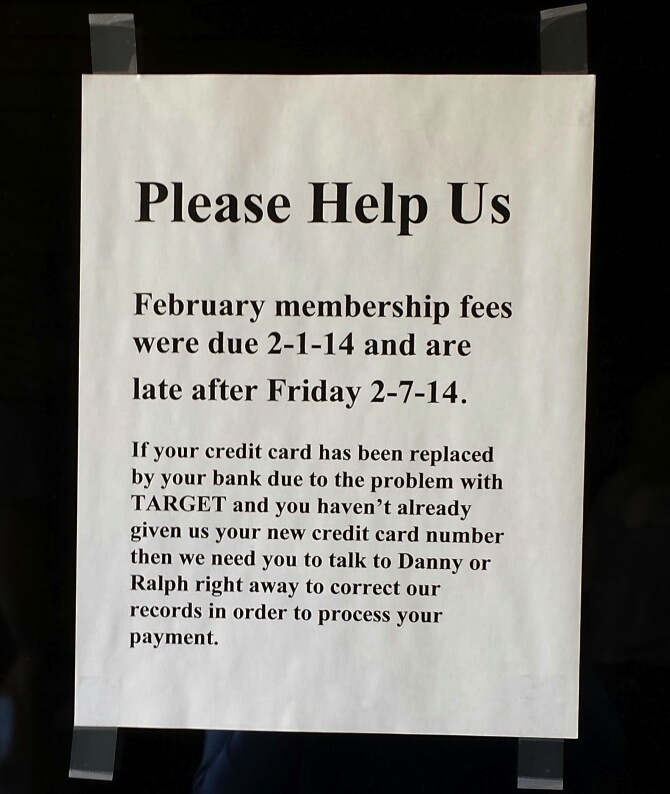 Yes, the note was directed at me—I was one of those "Target Breach" victims whose bank issued them a new credit card, and who forgot to update their credit card information at Danny's gym, Main Street Kickboxing.
I felt terrible. As a small business owner myself, I know that monthly cash flow can be crucial to survival. Yet, my primary concerns in this debacle had been the inconvenience of getting a new card in the midst of travel, and whether I'd receive it in time to renew my Netflix account so I could watch the premiere of "House of Cards".
Target is the third largest retailer in the United States, and its security breach will affect 40 million payment cards. Even if only half of the affected cardholders were as distracted as I was, that still means that an enormous number of small business owners like Danny were stuck feeling the effects of a big business's mistake.
"Every month, we count on a certain amount of payments, and this month about 25 percent of our membership payments were rejected," Danny told me. "I spent the past two weeks calling each individual member to retrieve their new credit card information. Many were still waiting for a replacement card, which meant another week to collect payments."
And, he noted, "this will cause some of our less frequent members to reevaluate their membership," potentially reducing future months' revenue.
Every small business owner knows just how hard it is to get a customer to hand over their card for monthly membership payments. Can you imagine having to ask customers to do it again?
Actually, maybe you can imagine it, because it's what you've been doing for the past two weeks!
What's your story?
If your business has been affected by the "Target Breach", we'd love to hear your story.
Tweet us @bplans or email us at howididit@bplans.com and tell us how you've been dealing with the cash flow impacts of the Target security breach. We'll be featuring our favorites here on the blog, and in an upcoming newsletter.
Like this article? Please share it:
How LivePlan makes your business more successful
If you're writing a business plan, you're in luck. Online business planning software makes it easier than ever before to put together a business plan for your business.
As you'll see in a moment, LivePlan is more than just business plan software, though. It's a knowledgable guide combined with a professional designer coupled with a financial wizard. It'll help you get over the three most common business hurdles with ease.
Let's take a look at those common hurdles, and see how producing a top-notch business plan sets your business up for success.
Click to continue