I've been meaning to post about this for months now: Ann Handley's Everything I Need to Know About Twitter I Learned in J School. If you're using Twitter, you should read it.
Ann doesn't just give us a great list. She also gives us great examples.
And if you're not using Twitter, it's still kind of fun. For example, here's a portion, showing the examples illustrating her first point, "make every word count":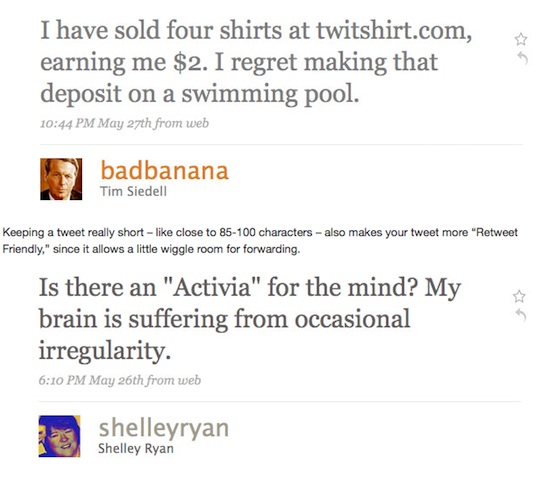 Like this article? Please share it:
How LivePlan makes your business more successful
If you're writing a business plan, you're in luck. Online business planning software makes it easier than ever before to put together a business plan for your business.
As you'll see in a moment, LivePlan is more than just business plan software, though. It's a knowledgable guide combined with a professional designer coupled with a financial wizard. It'll help you get over the three most common business hurdles with ease.
Let's take a look at those common hurdles, and see how producing a top-notch business plan sets your business up for success.
Click to continue