I've been meaning to post about this for months now: Ann Handley's Everything I Need to Know About Twitter I Learned in J School. If you're using Twitter, you should read it.
Ann doesn't just give us a great list. She also gives us great examples.
And if you're not using Twitter, it's still kind of fun. For example, here's a portion, showing the examples illustrating her first point, "make every word count":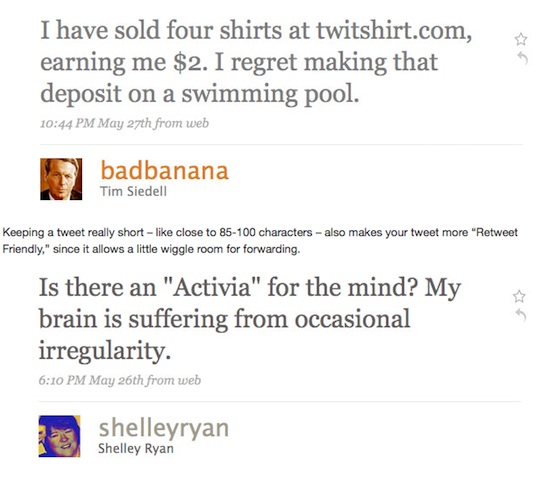 Click here to join the conversation (0 Comments)
Like this article? Please share it:
How to make faster, more informed business decisions
Your business is up and running, and now you're laser-focused on growth. And you're smart: you want to keep your finger on the pulse of the financial health of your business. But, you don't have time to run reports or analyze endless spreadsheets.
What if you had an easy-to-use financial dashboard that gave you a visual overview of all your key business numbers? What if you could set up budgets and sales forecasts without sacrificing critical time away from your business?
This is where a powerful, yet easy to configure business dashboard comes into play. Click to learn more about how a business dashboard can help you grow faster and make smarter, more informed decisions.
Click to continue