(This is number 3 on my list of top 10 startup mistakes.)
I don't refer here to the full formal business plan document that many startups need; I'm referring to planning, which all startups need. Set your long-term goals, your priorities and the meaningful milestones you'll need to hit along the way.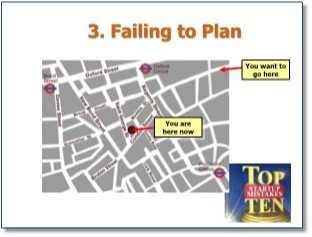 Don't ever confuse the plan with the plan document output. Don't ever think the plan will last, or will be correct. The plan will be wrong, but the process of setting it up and tracking results will help you steer and manage your startup.
Never do something just because it's in the plan. But never fail to plan. Plan right, understanding that it's the planning process that runs your company, not the static plan document. Plan to change the plan often, as assumptions change.
All business plans are wrong–but vital.
Click here to join the conversation (0 Comments)
Like this article? Please share it:
How LivePlan makes your business more successful
If you're writing a business plan, you're in luck. Online business planning software makes it easier than ever before to put together a business plan for your business.
As you'll see in a moment, LivePlan is more than just business plan software, though. It's a knowledgable guide combined with a professional designer coupled with a financial wizard. It'll help you get over the three most common business hurdles with ease.
Let's take a look at those common hurdles, and see how producing a top-notch business plan sets your business up for success.
Click to continue