First, let's look at what "brand" really means.
Your brand is what the outside world thinks of you. That's it. Although you can influence your brand through well-designed logos, hilarious ad campaigns, carefully crafted press releases, and super-friendly service, ultimately, your brand is what the outside world says it is.
So, why bother? Why worry about the outside world's perception of you?
Because there's a LOT of money to be made when the world thinks highly of you. People pay a premium for the privilege of using your products and services. People trust you and forgive you when asked. In short, building a great brand is the single best way to ensure the long-term survival of your company.
For small businesses it can be daunting and easy to think, "Oh, that's just what the Nikes of the world do." But actually, a brand is even more important if you're a small business. Here's why:
A brand makes you look bigger. If you scream "small-time vendor", or "mom working in her bathrobe", that is how your customers will want to compensate you. Research other businesses. Who do you look up to? Find an example of what you want to look like.
A brand builds credibility. If you want people to trust that you can deliver, you need to look the part. A well-designed brand is as important as brushing your teeth before the first date. Think about what you stand for. Then communicate that to your customers in everything you do, from the colors you choose to the words you use.
A brand makes you memorable. Stand out from the crowd—in the right way. Your customers have to remember you to find you. If your potential customer Googled your service, what would they find? Identify elements of your business that are different from your competitors' and showcase those elements in unique ways.
A brand attracts customers. When customers understand who you are and what you offer, they think about doing business with you. When they trust you and begin to love you, they tell their friends. Once your brand is solid, word of mouth is the best way to grow your base. Ask your customers for reviews and referrals. Make sure they know you appreciate the business. Build on great reviews by showcasing your happy customers. Grow your business further with well-planned and brand-consistent (same colors, fonts and personality) marketing campaigns.
Let's look at a small business I recently worked with, so I can show you exactly what I'm talking about.
Before and after
When Dr. Elizabeth Dawson joined Dermatology Associates of SW Washington, she knew she needed to change the "face" of the practice in order to stand out in an increasingly competitive medical marketplace.
But the practice couldn't afford to go to a branding agency, where prices started at $50,000. Dr. Dawson tried working with a graphic designer, but after five fruitless rounds of logo designs and thousands of dollars spent, she still didn't find the brand that she was looking for.
So, she changed her approach. Dr. Dawson worked with me and her team to figure out what they really stood for. What they wanted their patients to remember—and tell their friends—about Dermatology Associates.
Dermatology Associates defined a brand that felt right to them. We call it "Elegant Simplicity". The core brand attributes are professional, caring, intelligent, honest, and respected. The benchmark brands are Apple, Nordstrom and Trader Joe's.
Those words sound great, but what does that look like? What is the color for "professional and caring"? How can fonts—not just words—convey "honest and respected"? What images demonstrate "elegant simplicity"? Each of these details were addressed. The brand quickly came to life as the design system was created. Dermatology Associates chose a beautiful palette of colors, fonts and images—all designed to work together and consistently convey their brand attributes.
Take a look at the before and after: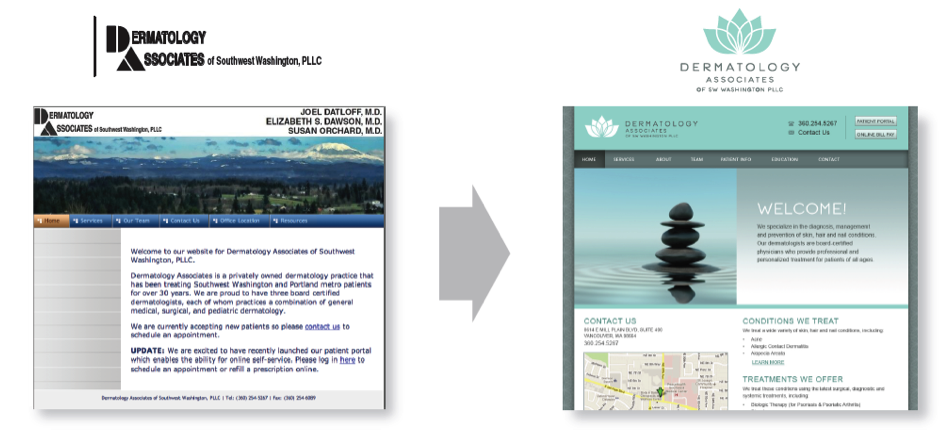 Before: Not sure what we stand for, but we know we're located in the Northwest!
After: Elegant simplicity.
This small business instantly looks bigger and more professional. It builds credibility with its customers as it conveys the attributes that are important to them—caring, intelligent, honest, and respected. This small business also becomes much more memorable as the system starts to work, with all customer touch points conveying similar messages.
And finally, it attracts customers. After all, who would you rather see: the Dermatology Associates from "before", or the Dermatology Associates from "after"?
With its new brand in place, Dermatology Associates is positioned to generate more patient traffic, strengthen the loyalty of existing patients, and solidify relationships with referring physicians. In other words, the practice is now ready to do business.
Whether you're a local medical clinic, hair salon, or a bakery, I truly believe that paying careful attention to your brand is well worth the effort.
Click here to join the conversation (2 Comments)
Like this article? Please share it:
How to make faster, more informed business decisions
Your business is up and running, and now you're laser-focused on growth. And you're smart: you want to keep your finger on the pulse of the financial health of your business. But, you don't have time to run reports or analyze endless spreadsheets.
What if you had an easy-to-use financial dashboard that gave you a visual overview of all your key business numbers? What if you could set up budgets and sales forecasts without sacrificing critical time away from your business?
This is where a powerful, yet easy to configure business dashboard comes into play. Click to learn more about how a business dashboard can help you grow faster and make smarter, more informed decisions.
Click to continue