Yes, I'm biased, but still, this is a good list of tips from Sabrina Parsons on the She Takes on the World blog.
People are the most important asset in your business. People are also much harder to manage than products or services. As an entrepreneur, you may have heard this from other people: Hire slowly, but fire quickly. This is a very true statement. People will make or break your business, so get the best and don't settle for less.
Set the culture for your company early on. Think about the "culture" you want to maintain and what it takes to do that. For me and Palo Alto Software, being a company of entrepreneurial-minded employees with a very family-friendly attitude is what works. I could never get upset at an employee who puts his/her family first, because that is what I do. People know that; the people who work here love it and appreciate it. Many people say this is the best place they have ever worked. In my opinion, that is not necessarily because it is the best place to work–it is because it is the best place to work for the people who work here. They are a cultural fit with our philosophy.
Planning is an ongoing process that helps manage the business. Your plans will not always be right, but they will help you understand where you want to go, how you will get there and what to do when obstacles get in the way.
There is more to life than business. Business will be here today and tomorrow and the next day. A healthy approach to running your business includes time off to focus on things that make you personally fulfilled, whether they are family, kids, hobbies, etc.
You will never be able to do it all. There is no such thing as "super mom." Compromises will have to be made. Be honest about the compromises and compromise where you can without losing the morals and values that make you who you are.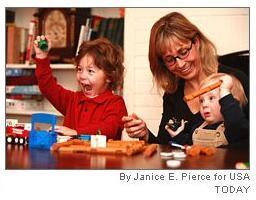 Sabrina is CEO of Palo Alto Software. She blogs at MommyCEO.wordpress.com. Why mommyceo, you ask? You probably get that from the picture, which was featured in a profile on USA Today. She's expecting her third child.