I use photos a lot, for business use. I try to have a picture with every blog post I do, because I think it improves the overall result. I  do a lot of presentations, and I like to use nice-looking photos instead of bullet points.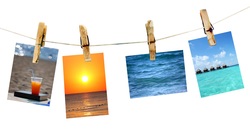 I talk, you look at the photo, and think about what we're talking about it. Neither you nor I read the bullet points.
So I was glad to see that TJ McCue posted 50 Stock Photo Sites for Every Small Business Need last week on Small Business Trends. Thanks TJ, that's a very useful list.
I've been using mostly shutterstock.com, occasionally istockphoto, and I'm looking forward to an account on bigstock.com. I also use Flickr creative commons photos often. And in all cases, I try to make sure to cite the photographer. It's hard to do that as part of a slide presentation, but I usually cite the source in the blog post. TJ's list includes istockphoto, but not Shutterstock. The istockphoto site lets you buy pictures for as little as $1-2 each, and shutterstock for more like $10 each, in groups of five. Flickr creative commons pictures are free, but usually only if you properly attribute the rights to the photo to its photographer. And you have to make sure, with Flickr, that you're searching for creative commons (often called cc photos, not all photos.
TJ adds an important note:
Remember, just because a website has a collection of images does NOT give you the automatic right to use those images.  The owner of any image or photograph has a legal copyright in that image.  Make sure you  purchase the right to use an image, or the image is in the public domain, or the image is under a creative commons license that gives you the right to use that image, or you receive written approval to use the image from the owner.  Check the Terms of Service of any website.  Never assume you have the right to use an image unless it's clearly spelled out.  Otherwise, you could someday get a letter demanding that you pay $1,000 (or some other large amount) per image, or a lawsuit charging you with misappropriating someone else's copyrighted material.
Disclosure: shutterstock, which is my favorite by far, gives me an account for free for use with this blog. Of course I like them for that. It's a great service.
Also, the photo on this post, the illustration here is a photo from Shutterstock, by oxystel.