According to a study by the World Bank, approximately 75 percent of people around the globe have access to mobile devices. CNET reports that subscriptions to mobile communication services grew from 1 billion in 2000 to more than 6 billion in 2012. Because of the rapid expansion of cell phone use, it's now more critical than ever that websites work across multiple platforms. Use these eight tools to enhance your responsive web design and maximize the number of people who can view and click through your sites.
8. Adobe Edge Inspect
Updated and released in 2013 with new branding tying it to Creative Cloud, Adobe Edge Inspect lets you preview your web designs to see how they'll look on different platforms. The main attraction of Edge is its ability to save you time by seeing changes across platforms in real time.
This tool makes it possible to sync your computer and mobile devices. By doing this, you can browse and inspect the web design on multiple platforms at one time. Also, as you make changes to the web design and debug it, your work shows up right away on your device, as long as you're working with Java, CSS, and HTML coding.
7. Skeleton
This company bundle of CSS files enables seamless website development that looks elegant whether it's displayed on a desktop monitor or a small glowing screen in your hand. Considered an easy-to-use boilerplate for responsive web design, Skeleton is aptly named because it creates a framework that expands and contracts according to the size of the user's device. While it contains basic design elements, it's flexible enough to allow designers to bring in more sophisticated styles.
6. Responsive Wireframe
Billed as an experimental tool that uses responsive web design techniques, Responsive Wireframe uses HTML/CSS to provide an overlay grid that lets you see desktop and mobile views of your design. The idea with this tool is to make it easy to design within the browser. While some designers may argue these wireframes crush creativity, others say it's a quick and simple way to create designs that work across platforms. Using this tool saves you time as you test designs using the responsive wireframes to see how they'll look on laptops, desktops, and mobiles.
5. Style Tiles
More concrete than a mood board, yet less static than an actual mockup, Style Tiles let designers show clients different website layouts. By presenting the tiles, designers avoid having to make multiple finished versions.
These cascading tiles showcase designs without fitting them to any device, making them an easy way to create designs and share them with clients before taking into account the many considerations associated with responsive design. In other words, this approach gives designers freedom from dimensional restrictions. A sister product of Style Tiles, "Component Style Guide" offers advice on taking your design and making it work across platforms such as the iPhone and the new Blackberry 10 smartphone.
4. The Responsive Calculator
Using percentages, this calculator gives you the data you need to transform a PSD design into an element for your responsive web project. You input six fields, and then click "Submit Query." Opt for borders, margins, and padding on your PSD with this calculator.
3. Wookmark
This is a jQuery plug-in that takes the components of a webpage and puts them into columns. The column layout is based on the browser window size. This handy tool is an excellent way to make a site responsive to various screen sizes.
2. ProtoFluid
Having an advantage because it's web-based, this tool makes it painless to see mock-ups of your design with different resolutions and dimensions. Enjoy getting to use Firebug as you check your HTML, CSS, JS, and other elements for problems. Keyboard shortcuts, a fast switch between different views, and clean code ensure speed as you use this tool to test how well your design looks on different screen sizes including Nexus, iPhone, and iPad.
1. Foundation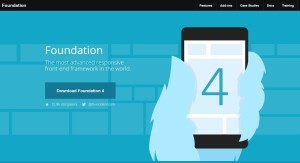 This front-end framework serves up the option to code smarter and faster. Among its features, this tool lets you begin by designing for small screens. As you work toward building out your design for bigger screens, Foundation helps you step up the design elements. In addition, this tool brings you cool HTML templates that give you a jump start on site design.
Take advantage of this tool's flexible grid, responsive layouts, and the speedy production of prototypes. The efficacy and credibility of Foundation is evident in the list of sites using it, which includes National Geographic, Pixar, and Los Alamos National Laboratories.
As you look at maximizing your responsive web design, what are the biggest challenges you face? Which tools have been most helpful to you?
[ Images via ]