Francesca (the baby on the right) is fine now; "very healthy," says her mom, Rosetta Thuresson (also on the right). But that's now, and thank goodness. Four years ago, when she was 3 months old, she caught RSV, which Rosetta describes as "a horrific virus that attacks the respiratory system."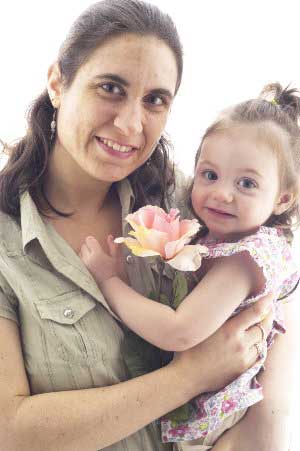 The immune system and lungs of an infant as young as Francesca are not yet developed enough to fight off such a virus, and it led to one week in the hospital, several months of misery and a terribly long recovery. Not only did Francesca have to recuperate from the pneumonia, ear infections and sinus infection that resulted from the virus, she also had to recover from the incredibly strong medications that had been given to her in a tummy which had previously known nothing more than mama's milk. The traumatic episode resulted in digestive difficulties, lactose intolerance, and the potential to develop asthma, allergies and other long-term effects. [ed note: quoting from the website]
Thuresson quit her job as a social worker, researched herbal remedies, took classes, studied, experimented, eventually landed a diploma in herbal medicine and, along the way, built a company. She visited my class today to talk about how she started Mama Rose's Naturals. It's a good story. She told it yesterday to my class in Starting a Business.
Did you ever see the movie Lorenzo's Oil? It's about parents not accepting their child's medical problems or the doctors' answers about those problems, who end up discovering remedies themselves. Rosetta's story reminds me of that movie.
There was no business plan, and no funding. But there was an idea, a set of values, conviction and, most important, a lot of work.
She began researching herbal remedies and ways in which to build up Francesca's flora and fauna after large doses of potent steroids and antibiotics. She began taking classes from the herbal shops in her community and registered for courses in herbal medicine. Rosetta also noticed that all of the baby-care products that she found were unsatisfactory to the needs of a healing child. Even those that claimed to be natural had a list of incomprehensible ingredients. It was clear that if skin could absorb the wonderful benefits of herbs that are used to heal and soothe the body and spirit, that the chemicals found in commercial care products were also being absorbed. Rosetta studied further, and began making herbal teas, soaps, salves and lotions for Francesca and her family.
Family members liked what she was making. Friends liked it. And over time, the idea grew. When I asked her about funding, she just smiled and rolled her eyes. No, not really. Here's what she says on the website:
After a few months' time, Rosetta decided to quit her day job and focus on her daughter, and the conception and growth of her new child, Mama Rose's Naturals.
Business plan or not, funding or not, Thuresson packaged and bundled up her products–and Francesca–and took to the road. She spent nearly a year visiting stores, showing the products and taking orders. She also took a course at the local Small Business Development Center, got some legal help from the University of Oregon law school, and found a graphic artist to develop branding, labels and packaging.
Funding? She rolled her eyes and smiled again. Credit cards.
She didn't make it sound easy. She did sound satisfied with the results. Mama Rose's Naturals now has an established brand, a hard-won channel of distribution through health stores and natural foods channels and a retail location here in Eugene, Oregon.
"I love it. I have somewhere to go, besides my kitchen, to mix up the products. My daughter can come and hang out with us."
She also has the responsibilities of a growing business. The website needs upkeep and the store needs to stay open regular hours. She has employees. She is, in short, up and running.
I want to end this with more background from the website:
Rosetta selected the highest quality, most nourishing ingredients that she could find, and took special care to blend them just perfectly for the tender needs of her baby. The results of Rosetta's efforts proved to be extremely effective in the healing process of her daughter, who is perfectly healthy and happy today. Rosetta received her diploma in herbal medicine, specializing in the needs of pregnancy, birth, postpartum and infant care. She continues to support and nurture families through her work as an herbal practitioner and birth assistant/doula. Rosetta continues to offer ongoing support and education in the area of natural family health while producing high-quality herbal products for babies and adults alike. Rosetta is dedicated to providing ongoing outreach, education and advocacy to babies, parents and families.