A good website is crucial in today's business world. If you're starting a new business, you might not have the cash to drop on a website designer, or your existing business website might be in need of a redesign. That's okay. You can go online and find a number of template-based websites for an affordable price.
To help you with your DIY business site, we asked two website experts, Charlie Patel and Tom Lira, to weigh in on what your site should and shouldn't have. Patel owns Gabfire Themes, a popular WordPress theme shop. He's worked with hundreds of large brands to create top-notch websites. Lira oversees a team of website developers at his company, InkDROP Media.
Together, we've created a DIY website checklist.
Plan your site
Before you start scanning templates on website design sites, Patel says you should do some pre-planning. Here's a checklist to complete:
Identify a color scheme. You want to pick several colors that match your logo and use them throughout your site.
Sketch or create mockups of page layouts. What's your home page going to look like? What tabs will your site have and in what order? Use Microsoft Word or Powerpoint to create this sketch and get an idea of what your site will look like. Check out some of your favorite industry websites and see how their sites are set up.
Document specific functionality requirements for your website. Create a list of must-have functions. For instance, do you want downloadable content on your home page? Do you want a sign up form for people to subscribe to your newsletters? Do you need a shopping cart feature?
Pick a builder
With a basic plan in place, you can start to surf through the DIY sites. Look through the "themes," or website layouts, and see which ones fit the mockups that you've created.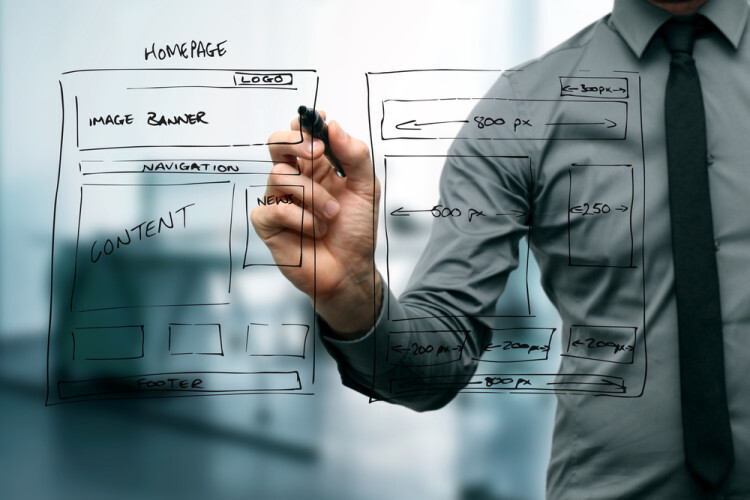 There's a bunch of DIY website designers out there. To help you decide which one is right for you, PC World has a review of a handful of these sites, as does Website Builder Expert.
Here's a list of a few popular options:
Watch out for theme pitfalls
Many business owners select a "pretty" design without doing a little recon first, which turns into a design nightmare. To make sure this doesn't happen to you, Patel says there are two things to watch out for:
Avoid themes that aren't responsive. A fully responsive design means that your website will look good on any device. From desktops to smartphones, you want your customers to see an impressive design no matter what device they access it on.
Avoid themes that don't have a demo available. You should be able to take the theme for a little test drive. Make sure you can click through a few sample pages to get a feel for the site before you select it.
Make sure your site is aesthetically appealing
A well-chosen theme automatically helps the visual nature of your site, but there are aspects that you'll be responsible for. There are four things your site needs to boost its curb appeal:
Short bursts of content. You want your website content organized into short, concise paragraphs, Lira suggests. Don't get too wordy—you can save that for your blog.
Contact form. Customers should be able to get in touch with you via email, says Lira. Make sure you have a contact form on your site, not just a phone number.
Consistent font and spacing. Select a font and stick with it throughout your site, Patel says. Keep the spacing consistent on every page too.
High quality images. Your site needs appealing images. Now isn't the time to settle for cell-phone quality shots. If you don't have stunning images, go to a stock photo site and pay a few bucks to get professional, high-resolution images.
Have you created your own business site? If so, do you have some words of wisdom for those tackling the task? Offer your advice in the comment section below.