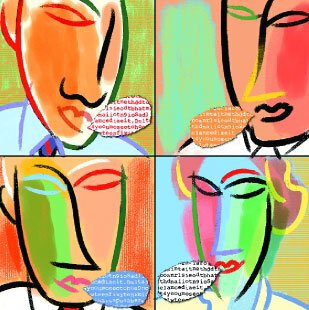 The advent of social media marketing has unquestionably been a godsend for small businesses just starting out and operating within a limited budget. The capacity to reach millions of potential customers through networking sites like Facebook, Twitter, Pinterest, LinkedIn, Google+, StumbleUpon, Digg, Reddit, Yelp and others has allowed business owners to use the dollars saved in marketing costs to invest in growing their business in other areas such as purchasing materials or increasing inventories. Yet, despite social media's awesome marketing reach, business owners are rediscovering and tapping into the simple power of real-world facetime.
A Marketing Case Study: Gail's Glasses
In 2008 with the economy a mess, her hours and income dwindling and layoffs imminent, my talented interior designer friend Gail decided the time was ripe to launch a startup company. Gail created a line of elegant portion-control wine glasses. Working within a tight budget, she asked me to write a press release for her to which she sent to industry-specific magazines that targeted women, healthy living, exercise, weight control, nutrition, etc.  She launched an e-commerce website and created a presence on Facebook and Twitter, and she reached out to industry bloggers to help generate word-of-mouth buzz. Her efforts eventually paid off, and as a result her product was featured in a number of top consumer magazines, mentioned frequently in the blogosphere, as well as showcased on two health-related television shows (The Doctors and The Doctor Oz Show). Predictably, with each product mention, sales on her website skyrocketed, but she realized that if she wanted to create a more consistent stream of revenue it was time to connect with her customers and the industry in a more personal way.
For Gail, the product narrative for her line of glasses—the first of a product line that would later expand to include bowls and plates—was her own very personal weight loss journey, so putting herself out there made perfect sense. There is a reason successful companies use owner spokespeople (think Dave Thomas, Debbie Fields, Steve Jobs). Many small business owners have discovered the value in meeting their customers face to face.
Putting Your Best Face Forward
Although it might seem more cost-effective to simply continue using an effective social media marketing model to the exclusion of other marketing strategies, if sales have dropped or stagnated, it may be time to revisit a more traditional mode of interaction—trade shows. Trade shows offer a unique opportunity that social media does not: they allow your customers to personally experience your product or service. Likewise, the benefits of meeting your customers face-to-face provides an opportunity to obtain viable leads. Direct interaction helps you not only better understand your market and your customer's needs, but gives you a chance to collect contact information from leads and use it to follow up and continue those relationships after the show is over. Building relationships based in both personal and digital realms leads to motivated followers.
Another benefit of exhibiting at trade shows is the opportunity to research your competition and to not only observe the marketing strategies they're using to promote their products, but also see how show attendees respond to it. It is also the perfect venue for networking with other vendors with complementary products that you could potentially partner with in future cross-merchandising endeavors.
The real beauty of exhibiting at a trade show, however, is incorporating social media tools to augment product promotion in a real-time space. Use your social media outlets to promote the shows you'll be attending and the events that will be taking place at your booth beforehand. Then, at the show you might include sending out live tweets, hosting on-site "friend" meetups, offering digital prizes in exchange for getting attendees to fill out your online lead forms, or posting QR codes that link to a contest. These "live" exhibits are also excellent venues for garnering customer testimonials and other materials for use in future marketing campaigns.
Of course, before you decide to take the trade show plunge, there are a number of additional factors to consider, including:
Budget: Determine your budget for costs of exhibiting at a show, the cost to rent the exhibit space, staffing, travel, hotel and meal costs, potential show services such as installation and dismantle and shipping.
Registration costs: Prices can range from $75 to as much as $4,000, depending on the size and focus of the event.
Choosing the right venue: Invest time in researching the trade shows in your industry to find the ones that 1) fit into your marketing budget; 2) reach your targeted audience; and 3) provide the best return on investment.
Etiquette: Entire websites are devoted to trade show etiquette tips:
What to bring
Professional attire
Do not overindulge
How to engage with potential clients
Using tall stools that create contact at standing eye level
No eating/drinking/gum chewing in booth
Smiling and making eye contact
Sitting only if you are with a client who also wants to sit
Do not cross arms or legs
Thanking attendees for spending time at your booth
Never enter the space of another exhibitor
Mixing specifically targeted trade shows with your social media efforts is a great strategy to grow your business' profile. If you're unfamiliar with trade shows, a virtual cornucopia of resources are available—from numerous print books on the topic to websites that provide detailed instructions. Here are a few to help you get started:
Conventions.net: An events resource with a searchable database by industry, category or location