"Your usual?" I nod and smile, anticipation already setting in for my medium white chocolate annihilator coffee. "Thanks," I answer. I hear the chatter of my co-workers around me, feel the warmth of the sunshine and stare at the moving traffic going by. I idly play with the Big Name Coffee Franchise coffee-sleeve in my...
Over 100 incoming emails a day. Four customer service representatives. One inbox and one workstation set up to receive all the messages. How does a company with that set up and that volume of email make sure that every customer gets responded to quickly? And that everyone is clear who 'owns' each conversation, from the...
Is email useful as a way of providing customer service? Pete Slease, a Customer Contact Council member advisor, apparently doesn't think so. On the CCC blog in February, Pete wrote: Call me the jaded contact center geek, but it seems that the usefulness of email as a service channel has expired.  I recognize some B2B...
If restaurants operated like phone companies, you'd never know where to go for dinner. My family has a favorite little burger joint. Even with lots of similar places in town to chose from, we go there often. We know their food and their service, and we're comfortable there. They recognize us as regulars, so every...
Customer service has been turned upside down by the self-sufficiency and immediacy of shopping and buying products and services on the Web. Our self-help culture has been transformed into a self-service culture with customers able and willing to do much more for themselves. At the same time, we are becoming accustomed to the benefits and...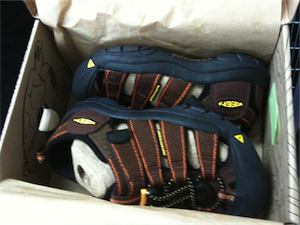 Sabrina Parsons posted For the best customer service: TWEET! on her MommyCEO blog earlier this month. She'd called customer service repeatedly, left messages and gotten no response. Then she tweeted about it, and this (the photo below) is what she got: a new, replacement pair of shoes for her son. This could seem like a good...
This past July I talked about how Dave Carroll's "United Breaks Guitars" YouTube post had brought new strength and power to consumer complaints against corporations' customer dis-service. The original song/video has had over 5 million views, and is now available on iTunes. This is an astounding amount of bad publicity, damaging mainstream media press coverage,...
Lots of things can happen when a job is done well. Here are a few: 1. Personal satisfaction 2. Sales for your company (or yourself) 3. Preservation of the natural "buying-selling" ecosystem 4. Unsolicited praise from your client base This particular post is about number four. Every once in a while, a user of your...