We all want to see our website ranking on the top of Google search results. Luckily, it is possible but not easy.
Sure, you can go for a paid search campaign to drive more paid traffic to your site. But, it is not everlasting. What works, in the long run, is an efficient SEO plan. It can significantly boost your online presence and incoming traffic.
So, if you are not leveraging SEO yet, you are making a big mistake. But it's better late than never. Here's a 5-point SEO plan to help you improve your online presence and attain better organic search rankings.
Run a quick website audit
Before we proceed to the plan, you must know where your website currently stands in terms of SEO. Performing a quick website audit will provide you with a thorough analysis of your website to better help you understand where to start. You can check out our full guide on how to conduct a website audit for a full suite of tools to leverage and common issues to be aware of.
If you want a quick place to start your audit, you may want to check out a tool like RankWatch. It offers a free website analyzer that examines your website and presents a detailed SEO report within minutes. It helps you find onsite SEO issues, which might be preventing you from achieving top SERP positions. When you fix these issues, you will notice changes in your organic search rankings and website traffic. 
If your website doesn't have any current errors or even nonessential errors, you can easily kickstart your 5-point SEO plan. So, without further ado, let's dive in.
1. Pick & use keywords wisely
Keywords are the backbone of SEO. To make sure that you're targeting the right keywords, you must perform comprehensive keyword research.
You can do it in one of two ways:
Using Google Search
Using SEO tools
Using Google Search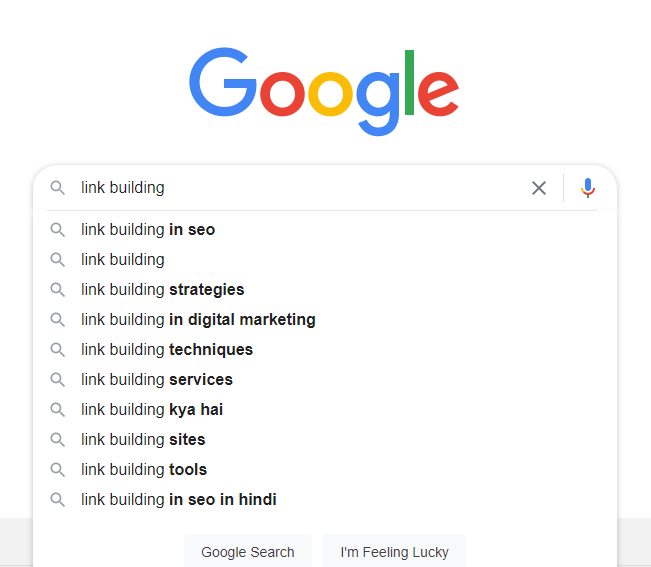 When you type a few words of the search query you want to target for your website, the search bar will show you a list of suggestions. This feature is known as Google Autocomplete, and these suggestions are nothing but keywords. 
Besides this, you can find more keyword ideas at the bottom of the search results page in the 'Related Searches' area.
From here, you can list out the relevant keywords for your website and begin to use them in your content. (These keywords will do quite well as they come from Google, which means people are searching for them).
While you may want to go for high-volume short-tail keywords, we advise that you start with long-tail keywords, which have a comparatively low difficulty. It is easier to rank for them, and you can drive a good amount of organic traffic to your site by ranking for several variations.
Besides this, people who search long-tail keywords are more likely to turn into customers because they are using more specific queries. However, it's still valuable to list out the more difficult short-tail keywords as well. As you begin to rank for long-tail keywords, you stand a greater chance of eventually taking on those short-tail variations as well. Therefore, while jotting down your keywords, ensure that you've got a balance of long tail and short tail keywords.
Using SEO tools
Another way of extracting keywords is by using SEO tools. There are plenty of SEO tools available on the internet, and you can choose from the treasure chest.
However, I  would recommend using the free Rankwatch Keyword Research Tool. 
You just need to enter the target keyword, and it will spit out a variety of keyword suggestions. It will also show you their search volume, CPC, and difficulty, which are important factors to be considered while selecting keywords.
You can ease the process of keyword research by simply choosing relevant keywords from the suggestions for your website. But, keywords alone won't do any good. You have to work on your content.
2. Optimize content for search intent
Content is the second most important part of any SEO plan. Including keywords is just the start, and it's just as important that you consider the needs of the user when putting content and pages together. You may have listed what they're searching for, but without useful information, they'll immediately bounce from your page.
If you are wondering, "How to optimize content for search intent?" It's quite easy.
Just remember two things:
Create high-quality content
Satisfy the search intent
Create high-quality content
When I say quality content, I don't mean to say you have to write an interesting fictional piece to grab readers' attention. Instead, you have to give your readers exactly what they're looking for.
For example, your reader is searching "best dentist near me" on Google.
They would be looking for the following information related to a good dentist:
The clinic's address
The fees charged
The timings
The offered dental treatments
The reviews, etc.
If you target this keyword, you must provide information about all the pointers mentioned above in your content. That would make it high-quality!
Creating high-quality content will do two things:
First, more people will click on your website. And most SEO experts consider CTR (Click Through Rate) as a ranking factor.
Second, it will reduce the bounce rate and increase the dwell time simultaneously.
When you start writing, make sure you satisfy the search intent.
Satisfy the search intent
Search intent is defined as the what and why behind a search query. It helps us understand the purpose or goal behind a particular search.
For example, a person searches, 'price of an iPhone X. You can guess the person intends or wishes to purchase an iPhone x. Similarly, the search 'Facebook login page' indicates that the person wants to visit the login page of Facebook.
When you are writing content, you must keep this intent in mind and answer the target query. If your content fails to match the intent, it might not get long-term attention from users.
Basically, there are four types of search intent:
Informational: Users want to know about something.
Navigational: Users want to know the web address.
Transactional: Users want to buy something.
Commercial: Users want to compare and choose from options.
You can easily cluster your target keywords into these search intent groups and write your content accordingly. When it satisfies the search intent, it will rank better in the SERPs and enhance your online presence.
3. Retain users with outstanding UX
Your website's design is vital not only for the users but also for organic search rankings.
If your site doesn't offer a good experience to the visitors, they will probably just visit one of your competitors. Plus, the search engines will consider it as a negative signal and devalue your site in the SERPs. Nobody, including me, would want that.
So, retaining users on your site by providing a great user experience is a must.
The three most important factors that contribute to a good user experience are:
Mobile-friendliness
64% of U.S. residents access the internet with their smartphones and tablets. 
That means they visit websites on the go and have relatively smaller screen sizes. If they cannot easily access your website on their mobile devices, they will not stay on your website.
Besides this, Google prefers ranking mobile-friendly sites in its search results. 
So, you must make your website mobile-friendly. 
The best way to do it is to use a responsive design or theme for your site. It adjusts to different screen sizes and resolutions automatically, giving you the desired results.
Faster page loading speed
No one likes slow, especially while surfing on the internet. Here are some numbers to authenticate it:
Every 1 in 4 visitors closes the tab if the loading speed is more than 4 seconds.
46% of users don't turn up again if the website response time is slow.
Even a second delay reduces customer satisfaction by 16%.
So, optimizing your website for speed and performance is crucial.
You can achieve faster page loading by compressing your images and videos, minifying your CSS and HTML files, implementing lazy loading, etc. For a full picture of everything that can affect your website speed and performance, check out our guide on Google Core Web Vitals.
Easy layout & navigation
Your site's navigation is not the place for a big list of alternatives, click-bait games, or dead ends, which leaves the user confused.
It should help users browse your site and easily reach the desired pages.
The same goes for the layout. You should place the right elements at the right places on your website so that users can easily find them.
You can offer easy layout and navigation to your visitors by adding a home icon to the header, using a strategic hamburger menu, using single-page scrolling, etc.
Once your site is ready to welcome visitors, you must perfect your on-page SEO.
4. Perfect your on-page SEO
On-Page SEO is essential when you want your website to rank for specific terms on search engines.
It consists of several on-page SEO elements like title tag, meta description, alt text, etc., which help search bots understand what a web page is all about.
When crawlers get the page's main topic, they can rank it easily for appropriate search queries. So, here the question arises, how'd you do it?
The process of On-Page optimization begins with keyword placement.
The best places to add keywords on your page are:
The first 100 words of your blog post or landing page content
The meta descriptions
The URL, title, and headings 
The rest of the content
Besides this, here's what else you must do to perfect your On-Page SEO:
Write compelling meta descriptions in less than 160 characters
Use H1, H2, H3, etc. to structure your content
Use internal links (including related links at the end) 
Create short and descriptive URLs 
Add descriptive alt text to your images
Keep your content length between 800-2000 words
The last thing you want to consider is building links.
5. Go for targeted link building
Backlinks are very powerful when it comes to boosting your website's search rankings and hence online visibility.
Hence, link-building has been the core of SEO for years and is relevant even today. But, getting backlinks from any site you come across might not be helpful. To achieve the desired results, you should go for targeted link-building.
It is the practice of reaching out to relevant websites and trying to get strategic backlinks from them. Generally, it is about getting links to specific URLs or web pages on your website to boost their search rankings.
Here are the steps to help you get started:
1. Research your competitor's backlink profile
Using an SEO tool, you can easily find out all the domains linking to your competitors. Collect them in a list and sort them based on relevance.
2. Find email addresses associated with those domains
Many online email extractor tools like Hunter, Snovio, etc., will help you get the emails associated with a domain. Just bulk upload the domains you want to reach out to and find their contacts.
3. Reach out to them with your link-building proposal
You can earn links in various ways – by contributing a guest post, giving a backlink in return, etc. It's your choice – just make a proposal nobody can refuse. Approach the domains with it (via emails) and wait for their replies.
4. Earn backlinks to your web pages
When domains agree to give you backlinks, fulfill your promise. If you told them to contribute a guest post, submit a high-quality content piece with your links in it. Or, if it was about the link exchange, add their link to your blog and follow up.
In this way, you can build lots of backlinks to your site. To track your link-building progress, you can use RankWatch's free backlink checker tool. But remember to build links to your site's most important pages first and target the most relevant websites first. It will help you progress faster.
All good things take time
And so does SEO. In fact, it can take anywhere from 3 to 6 months to show measurable results. 
With consistent efforts and this 5 point SEO plan in place, you'll surely be able to see a difference.
For best results, keep a watch on Google's algorithm updates and upgrade your SEO plan accordingly. 
Were you able to get results with this 5 point SEO plan? If yes, what worked best for you? Let me know in the comments.