Editor's note: We're launching a new product, and we want to take you along for the ride. So, we're pulling back the curtain to give an inside look at what really goes on behind the scenes of building and launching something new. After you're finished reading this article, check out how we named our product, how we designed our logo, and our advice on building a sales forecast based on our experience.
Starting a business and launching new products is a ton of work. From figuring out what exactly your customers need to nailing down your company name, you'll encounter hurdle after hurdle.
Here at Palo Alto Software, we're going through this process right now. And, yes, it's a bunch of work. No matter how many projects we work on, there's nothing like building something from scratch.
We usually do all of this work behind the scenes and wait until we're ready to launch to take the wraps off a new product, but this time we thought we'd do it a bit differently and give you a first-hand look into our process. We want to take you on the journey with us.
What goes on behind the curtain?
I'm sure you've seen plenty of new companies launch and wondered, how did they do that? How did they arrive at that decision? What was the process like for choosing a name? Did plans change along the way?
So, instead of keeping everything hidden away, we've decided to give you a peek behind the curtain and share with you how we're doing things. Over a few different blog posts, we're going to show you, step-by-step, how we figured out if we had a good idea, how we picked our product name, how we developed our logo, and much more.
These "how to" lessons will help you build your business, no matter what industry you're in or what you're building. Over the years, I've found that there are some universal processes that every business should go through to increase their chances of success, and that's the knowledge that I'll be sharing.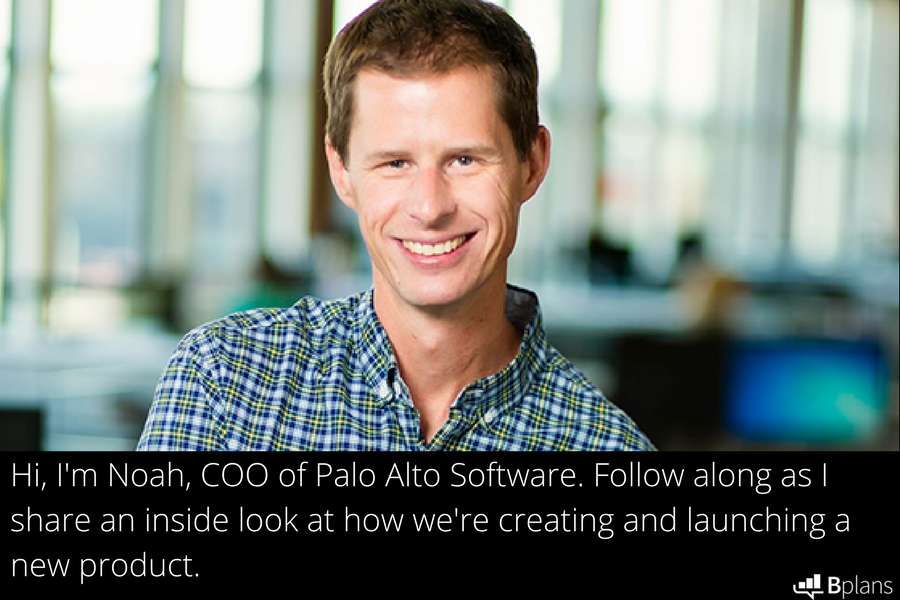 I'll be your guide through this process. I'm COO of Palo Alto Software, the company behind this site as well as LivePlan, Business Plan Pro, and a few other products. We've had successes and failures along the way, and have learned a lot about building and launching products. My job at Palo Alto Software is to help our product and marketing teams succeed, and I hope that by sharing some of my knowledge with you, you can avoid mistakes that I've made in the past.
As I show you how we're doing things, please let me know if there's anything that you want to know that I haven't covered. My goal is to be as transparent as possible and help you build the business and products that will make you a success.
Find me on Twitter @noahparsons and let me know what you want to learn about.
By now, you might be wondering what we're building. Here's a sneak peek:
We're building Outpost, a collaborative email management tool for teams. Outpost lets everyone work in the same inbox without stepping on each other's toes and makes sure customers get better support with fewer headaches.
We'll be publishing more about our journey as time goes on. Check back in to learn:
How we learned that people would want what we're building
How we picked our product name
How we designed our new logo
How we built our sales forecast
Stay tuned! More is coming soon. In the meantime, sign up for the Bplans daily newsletter to stay updated as we continue to build and launch Outpost.