Entrepreneur Zack Price is guest blogging his experience this week on the 2013 StartupBus as it makes its way from Chicago to SXSW in Austin. On StartupBus a team of strangers, traveling at 60mph, have about 72 hours to conceive, build, and launch a startup. You can catch up with Post #1 in this series here and Post #2 here. 
I didn't sleep at all the first night, maybe 90 minutes the next night.  I'm too tired to type.  Here's a photo dump. Click/tap on any photo to inspect further.
This is basically my belongings for this journey. I wanted to pack lean & mean, so this is about all I brought. Rookie mistake. Especially the 5 lbs of sour gummi cherries.
Kick in the door, wavin' iPhone 4
iPad 3 wifi-only
1871 t-shirts in various colors
Nike parachute pants
Garretts carmelcorn
Benjamin Franklin $100 bill boxers
Geek socks for good luck
Cowboy hat (when in Rome)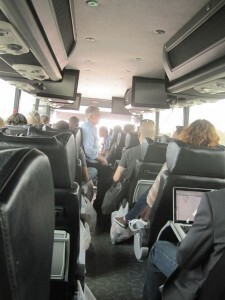 Our bus, SnufulupuBus.  Colleen is the oldest on the bus, so she gets to sit in the aisle, if she wants.
The dry erase window.  We were deciding on a domain name.  We decided on NextChaptr.com.
We also almost got kicked off the bus by Doyle, our bus driver, as he threatened we owed him $1500 per window panel.  (It's just dry erase marker, dude.)
This is @baldingboy.  He's the youngest on our team, so we make him do crazy stuff, like force-feed him sour gummi cherries.  This ended up back-firing on our team.  'Nother rookie mistake.
My new BFF's…The Startup Bros – I've got a few years on them, but they have a few inches on me.  You can't teach height.  We're gonna do podcasts together and it's gonna be great.
Startup Bro Will – 1/2 of my new BFF – he likes cigars, chips con queso, and discussing the value of precious metals.  Me too.
He understands economics better than me, and I actually graduated college.
Startup Bro Kyle – the other 1/2 of my new BFF – he likes driving cross country listening to Bob Dylan.  Me too.
Kyle gave me a last second tip before I pitched on stage, I used it, and the audience ate it up.
That's what bro's are for.
This is Tatiana Bakaeva – she's not only the "boss" for CareerMob, but she's the mascot for StartupBus spin-off DrunkSpotting.com.  Talk about a diversified portfolio.
I think I got the very first drunkspotting photo with her.  I could still smell the Sharpie stench fresh off Erica Swallow's penmanship.  Not that I was sticking my nose where it didn't belong.
Last but oh so most certainly not least, the eLance crew — Alex Yoon & Megan Gebhart.  I told Megan she looked like Lisa Loeb.  At first she was miffed, finally she accepted the comparison.  What do you think?
Weird times, right?  Who cares.  Never forget … We are all weird.  But I'm tired.  More next time.
– Chicago Startup Guy
Stay tuned for Post #4 to find out how I choked on stage in my first real battle…