As a business owner, improving your website's presence on search engines should be one of your top priorities. This is still true if you have a physical location, as local SEO tactics can help people in your area find you.
Here, I'm going to provide you with five expert tips that will boost your local SEO and ensure your business starts to see more foot traffic. Read on to learn more.
What is local SEO?
Local Search Engine Optimization (SEO) is a process where you look to improve the search visibility of a local business. These are primarily brick-and-mortar locations that have a physical footprint that customers can visit and that you are pointing them toward. Local search leverages signals such as local content and descriptions, social profiles, links, reviews and anything else that provides the most relevant local information in a geographic area.
Local SEO tips — How to improve local SEO for your small business
Leveraging local SEO best practices can better help you position your products and services to target customers that are more likely to visit your physical store. Here are a few methods you can implement to boost your visibility with local SEO.
1. Build links on local sites
Link-building involves acquiring backlinks to your website from other high-quality sites. If you can gather quality links from a number of reputable websites, search engines will see this is a sign that you're a trustworthy source of information. As a result, you should start to see your site climb the search engine results pages (SERPs).
When it comes to boosting your local SEO, you can use link-building techniques to secure local links. Here are some techniques you can use.
Find local directories
One way to build local backlinks for your website is by searching for local directories where you can list details like the name, address, phone number, and website of your business. Some of these sites have high authority and can be a good source of backlinks.
Contact local bloggers or influencers
You can search for bloggers in your local area and reach out to them to ask if they would like to talk about it and link back to your website. To increase your chances of getting a positive reply, try to offer them something in return for this act. It could be free use of your products, for example.
Just make sure you thoroughly vet any website before requesting a backlink. Try to avoid low-quality and spammy websites as these will not contribute high-quality backlinks to your site.
2. Ensure you dedicate a web page to each of your locations
If you provide services in multiple locations, you should dedicate a webpage to each, as this will give search engines more context about which areas you serve.
Let's take a look at what should be included on each of these pages.
The name, address, and phone number of the location
When creating a web page for each of your locations, you'll want to optimize the page to include your business's name, address, and phone number for each specific area. This information should correspond to what you've included in your Google My Business profile and any other local directory.
Use photos of your location
You should also include images of your physical location and the surrounding area. Make sure you optimize your images with the right file names and alternative text so they give plenty of context about where you're based.
Embedded Google Maps
Including a Google Map on your webpage is an excellent way to help customers and search engines pinpoint exactly where you're based. This will also help people to work out how far they'll have to travel to get to you.
Location landing page examples
Now that you're aware of the hallmarks of an effective location page, let's look at some good examples for inspiration.

First, we have Ecology Exterminating Service, a company that provides extermination services for various locations in the United States. For instance, they have a page about their exterminating services in Bushwick, Brooklyn.
You can see that it's very clear what kinds of services the company offers, and which areas they work in. They've made this obvious by including an embedded Google Map that shows where they are located in Bushwick. You will also see that they have mentioned the major issue of bed bugs in Bushwick and how they help residents solve this problem with their services.
Another example comes from Bay Property Management Group, a company that is focused on managing domestic and commercial properties for its clients.
Their location page for property management services in Delaware includes all of the details I've outlined above. There are images of the local area, information about what services people in Delaware can access, and contact details for this specific branch. This gives search engines a lot of context about where their office is based and who they can help, which will give the company a local SEO boost.
Then we have Excel Builders, who build custom homes and provide renovation services.
They have a branch that serves Salisbury, MD, and Wicomico County and they have optimized the content on their location page to reflect that. They have also included a picture of the Salisbury area where their office is located.
This location page is effective because it contains text that has been optimized for the area and it also incorporates appropriate images that will help locals feel a sense of familiarity when they come across this business. You should use similar tactics when creating your localized pages if you would like to boost your local SEO.
3. Create a page for each of your products or services
If you offer different types of products or services, it's a good idea to create a page dedicated to each one and optimize them for local search.
This is because people won't just look for certain types of businesses in the area — i.e. "bakery near me" — but they also look for the kinds of products they want to buy — i.e. "birthday cakes in [location]".
Product or service landing page examples
Let's take a look at some sites that are successfully using this tactic to attract the right customers.
First up is a service page from ShoutWire, a company that specializes in providing services like the trimming and removal of trees or shrubs.
At first glance, we can see that they have optimized this page for the service they offer and the area that they serve, which is low-cost tree services in Richmond Hill, GA. This is a great tactic that can help to improve their local SEO. They've included these keywords clearly in the heading of this page, and they're also scattered throughout the body copy. It's important that you use a similar tactic when optimizing your local product or service pages.
A second example comes from Florin Roebig. The company provides various attorney services, which range from help with personal injury to labor law or drug lawsuits.
They've created web pages to make it very clear which areas of law they practice in, and where they're based. For instance, they have a specific page to show that they have car accident lawyers in Sarasota.
Creating pages like this allows you to show what you're an expert in, target the most appropriate local keywords, and attract the right people.
Finally, let's take a look at Manhattan TechSupport's managed IT services page. Of course, they have "Manhattan" in their brand name, which immediately gives both search engines and internet users a clear understanding of where the company is based. But, as you can see, they also make sure to mention their location and the services they provide at every given opportunity.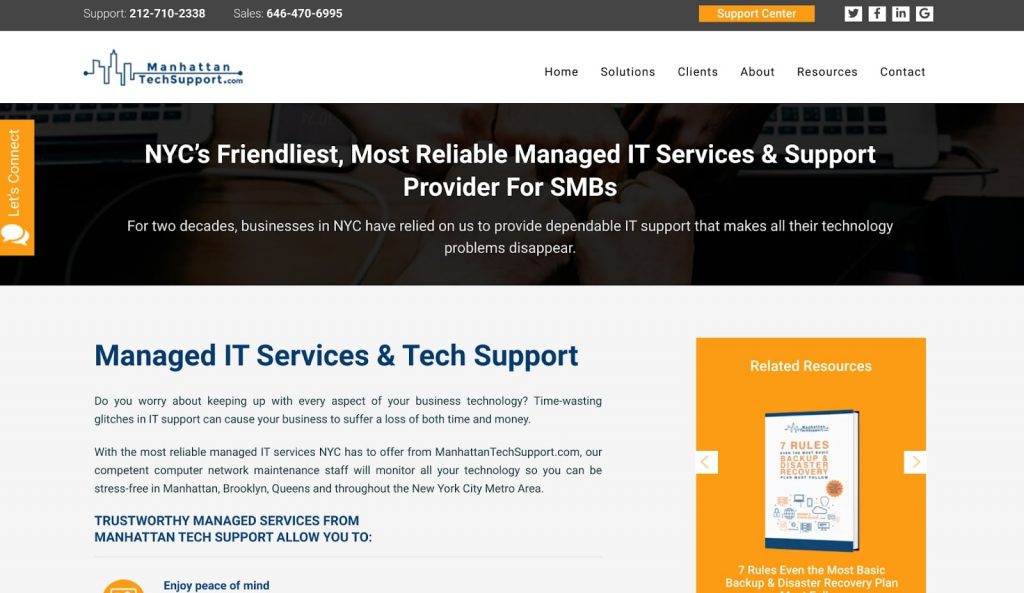 They've mentioned that they're based in NYC, they repeat their localized brand name every once in a while, and they've also highlighted which areas they serve in the body copy of this page. This service page will leave search engines with no doubt about what this company offers and who they serve.
When you're creating your service pages, make sure you highlight all of the different towns or neighborhoods you work in, as well as which services you specifically offer in each case, so you leave no room for people or search engines to get confused.
4. Make sure all of your local images are optimized
One area of SEO a lot of companies neglect is the opportunity to optimize their images. This can be a particularly good tactic for local SEO if you have photos of your company's local area.
Make sure you add descriptive alternative text, mentioning the local area where appropriate. You should describe what's in the image and where it was taken. Alt text gives search engines a lot more context about the images you publish on your website, so they will find it easier to show your images in response to relevant searches.
You should also make sure that your file sizes aren't too large, as large files can slow your page loading time, and you don't want customers to leave your website simply because it is taking too much time to display. Most people recommend using image files of less than 500kb, so it's best to stick to that size.
Lastly, when naming your image files, always use words that describe the exact image you are using. For example, if you want to upload a photo of a restaurant in Georgia, you could name the file restaurant-in-georgia.jpg. Also, remember to use hyphens instead of spaces when naming your files.
5. Create a website that works well on mobile devices
People are browsing the web on their phones more than ever before, so you'll be missing out on a lot of traffic and business if your website doesn't work well on mobile devices.
If your website doesn't have a mobile-friendly version, this could be bad for your SEO particularly because of Google's mobile-first index policy. This means that Google's algorithms will prioritize ranking responsive websites that have been optimized to work well on mobile devices.
This doesn't mean that your website will not get ranked if you only have a desktop version. But it does mean that you could get out-ranked by your competitors if their websites are responsive.
Nowadays, a lot of local mobile searches result in an in-person visit to a store. Search Engine Watch did a study and it showed that 50% of local searches from mobile phones lead to in-store visits, so you could be missing out on a lot of customers if people can't find your site through mobile search engines.
Here are some tips to ensure your website performs well on mobile.
Improve your page load speed
Improving your website's load time can significantly enhance the experience that mobile users have with your site. If your mobile site is taking too long to load, people will most likely leave before it finishes loading, effectively increasing your bounce rate.
If you want to monitor your page speed, you can always use Google's page speed tool to analyze your website's pages and find out where there are opportunities for improvement. Most experts recommend a load time of 1-2 seconds as most users usually leave a website that takes more than 3 seconds to load.
Use a legible font
Many things go into providing the best user experience for your mobile site, but one important point is for you to choose the right fonts for your website text. Mobile phones have a significantly smaller screen compared to desktops or laptops, so you should check and make sure that you use a font that can easily be read by mobile users when they scroll through your website.
Create a clear navigation bar
Your website needs to have a navigation bar that clearly outlines its different pages and makes it easy for users to find any information they need. You want to make the color noticeable and the text should be simple and easy to read
Local SEO is an impactful investment
If you own a business with a physical location or provide services to a particular area, then optimizing for local SEO should be a top priority.
By building links on local sites and making sure that you dedicate a webpage to each of your services, you will be well on your way to optimizing your site for local search and increasing the online visibility of your business.