Did you know that according to Pagely, translated versions of your website improves its overall SEO rank? And, according to Statista, 25.3% of content is in English, while, according to CSA Research, 75% of consumers are more likely to buy from sites that are in their native languages.
What do these statistics mean? It means that there is less translated content and websites worldwide, but that there's a demand for it. If your translated website has localized SEO, all the better for visitors and engagement. And more visitors and engagement mean better rankings.
Do you want to optimize and rank your website in multiple languages with SEO? It's not easy. You have to make sure that both your website, landing pages, and keyword strategy are optimized for multilingual SEO. How do you do that?
Well, you have to create a multilingual SEO strategy that consists of landing pages, using hreflang, language translation services, and a great keyword strategy. And, we'll see the benefits of how multilingual SEO or international SEO can generate traffic and help you rank worldwide.
So let's uncover how to improve your rankings with multilingual SEO.
Why a business needs a multilingual strategy?
Almost every type of business, but especially those looking to go global, would need a multilingual strategy. Businesses that have an English-only website could look to build a multilingual one in order to cater to their non-English speaking consumers.
First off, English is not the only language used online. Secondly, studies show people prefer content in their native language. Thirdly, translated content expands your reach, targets new audiences, and helps build trust with your audience. If that's not enough, it drives more quality traffic to your website, especially with the help of multilingual SEO.
Small businesses, especially, could use multilingual SEO for their international expansion. There are cost-effective ways to employ a freelancer, your own team, or translation services because they'll make sure your business goes international through language translation. Tomedes translation services is an industry leader and adept at broadening the horizons of small businesses to the international stage. Those businesses who are looking for international clients, who could relate to them in their languages, are the ones who most need a multilingual strategy.
What is SEO and why does it need to be multilingual?
SEO, or Search Engine Optimization, is the use of search engine optimization to increase visibility when people search for your website on Google. The better your website's visibility is in search results, then the greater your chances of people clicking and redirecting your website. The more new people on your website, which is called organic traffic, the more people are more likely to avail of your services or products.
Why does your SEO have to be multilingual? It's because Google is different in every language, so you have to optimize search results differently on Google.co.uk or Google.com.au. Doing so will have your search results ranking on every type of search engine available in that country.
How to create your multilingual SEO strategy
Your multilingual SEO strategy needs a few things to come together: the use of landing pages and hreflang, a multilingual keyword strategy, and language translation. All of these are coming up next!
1. Landing pages strategy
When it comes to building a multilingual website or a multilingual SEO strategy, your landing pages need to be on-point. Having the correct landing pages is the first setup you need to do. You can correctly set up your landing pages by the use of subdirectories or subdomains.
There are two strategies for landing pages, subdirectories, and subdomains. These are ways to rank the pages as multilingual pages, so Google will not be confused and rank it as part of your main domain. Although technically, they are part of your main domain, they will rank as separate pages on Google. Thus, your websites can rank respectively on Google sites such as Google.es (Spanish) and Google.fr (French), rather than other types of Google.
Subdirectories explained
Subdirectories can also go by the name subfolders. They are extensions of the main domain, such as maindomain.com/es/ for Español, maindomain.com/fr for French. But, they're entities of their own, full-fledged websites and will rank accordingly. The best ways to use subdirectories are by creating a small menu of landing pages on your main domain. These will be your subdirectories, a directory of your landing pages, which in turn will all be considered an extension of your website.
Subdomains explained
Subdomains, however, are also part of the main domain, such as subdomain.maindomain.com. When you have a WordPress or Blogger site, you're on a subdomain that are extensions of WordPress or Blogger. Subdomains are great for when you're creating a website that you want the rankings of the main domain to extend to the subdomains. The best ways to use subdomains are by creating a landing page to your subdomain from your main domain, and then have other landing pages within your subdomain.
This is a handy infographic from WPBeginner about subdomain vs. subdirectory: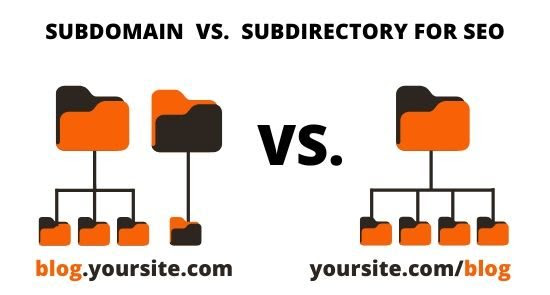 Which structure to choose?
Structuring your subdomains or subdirectories will largely depend on your end goals. SEO-wise, if you want to rank as a different website, use subdomains, but if you want your rankings from your main domain to influence your other domains, you'll be using a subdirectory.
For subdomains, since ranking is the number of links plus keywords, your subdomain wouldn't be of value to your main domain–they're considered a separate entity. If your main domain is already an authority, then you can focus on a subdomain to build up the subdomain's authority. If your main domain is still building up your domain authority, then you'll want to use subdirectories, which is influenced by the main domain.
For example, you have an English website, for which you have a Spanish subdomain. Then you'll build up and localize that subdomain to rank. Meanwhile, if you have an English website with subdirectories of Spanish, German, and French, your English website's rankings will influence the rankings of your other pages.
Thus, you'll be localizing in English, German, Spanish and French, with your subdirectory; with your subdomain, you'll only be localizing in Spanish, if that's your subdomain, not English, your main domain. I mean, you can still localize your main domain when you're using subdomains, but neither will affect your rankings for either. Only subdirectories are influenced by the ranking of the main domain.
Often, when using subdomains or subdirectories, they're confused with each other. I hope this guide helps you out a bit.
2. Using Hreflang
Now that you have a subdomain or subdirectory figured out, you're going to have to get used to the term hreflang. According to Moz, hreflang is this, precisely: rel="alternate" hreflang="x." But what does it mean?
It's a tag or attribute that tells Google which language you're using for a specific page. Does it make sense now? The hreflang tag allows you to be searched on Google, correctly for each specific language.
With the hreflang attribute, when you create, say, a French version of your website, and tag it as French by creating the tag hreflang="fr." It can decrease the bounce rate of your subdomains, because you have the traffic that you need–French users, on your site. These tags can appear in the header section of your multilingual page, or on a site map of your whole website.
Even with a refined tag structure, you can end up with the wrong version of your pages. It might be helpful to have a method for landing pages on your site, such as a directory with a site footer, or a top-navigation menu bar.
3. Keyword strategy
Your keyword strategy should overlap with your localized content. Your keywords are composed of translated or localized keywords from your keyword research. You'll be using keywords that rank in Google's Germany version for a German language page. You can use a tool like Ahrefs for keyword research on various language sites.
Your keyword strategy needs to be on point, too. Much of SEO has to do with keywords, and multilingual SEO is no different. What might be a keyword in your English site may not be the same as your Spanish site.
For a good keyword strategy, you'll be translating some words, and then retaining English words for others. Proper nouns will not be translated, while some simple nouns will be. It's important to know which keywords you'll be translating.
The key is determining whether that keyword is widely in use. For example, will the keyword "localization" for American English be retained, or will you use "localization" for British English instead? Or even its German counterpart "Lokalisierung"? It all depends on your keyword research.
4. Language translation
Language translation is a key strategy for a multilingual website, which needs localized content. If you're going to have a Spanish page, you'll need to translate the domain name, the headers, the footers, and all the content within the page.
Common issues you should be aware of are language representation and translation quality. The first, language representation, means that there are multiple languages for every country. If you're localizing in Botswana, your translation strategy will include translation into one of the major languages in Botswana and will cover the other languages perhaps in blog posts. Choosing the right language is key to a good translation strategy.
Another important factor to consider is translating into variants of a language. For example, Portuguese in Brazil is different from Portuguese in Portugal. This will all depend on the consumer profiles you're targeting as your target audience. You may consider having the main domain in Brazilian Portuguese, and so on.
Next, you need to consider translation quality, once you've made the choice to translate from your language to a key language in your target locale. Translation quality will necessitate no errors in the translation.
In order to make sure that your translation has a good translation quality, you may consider freelance translation or translation agencies. The best thing that you can do as a firm is to relay your content in good hands.
Translation quality is the degree to which your translation is error-free, and one of the ways to make sure your translation is error-free is to employ translators versed in your language.
Bring all of your strategies together
Multilingual SEO contains a lot of strategies in one, such as keyword strategy, hreflang strategy, landing page optimization, and language translation. These are all keys to a successful multilingual website.
While it's important for businesses expanding internationally to get globalized perspectives, it's also important to capture direct, local feedback from consumers in target locales, boosting their localization tactics with the help of local authorities, influencers, or your ideal consumer. Without localization, there would be no globalization.