I'm a sucker for any app that helps me be more productive. I'll try any new to-do list and I'm always on the lookout for the next great project management tool. Over the past year, there have been some fantastic new productivity apps as well as some refreshes of a few classics. To help you increase your productivity in 2013, here are my top 12 favorite apps from 2012. These aren't just apps that I've read good reviews about. These are apps that I actually use on a daily basis to make my life easier. I'm sure you have your favorites too, so please feel free to add them in the comments. Here's to a productive 2013!


1. Evernote: Helps you remember things
Evernote is my notepad, my bookmarking tool, where I draft blog posts, my record of favorite beers and wines, and so much more. I love that Evernote is anywhere I need it, whether on my phone, my iPad, or my laptop. I never have to think about things staying in sync and it's an excellent application for staying organized. I don't personally use Evernote for my to-do lists, but many people do so that it can be a true "all-in-one" productivity app.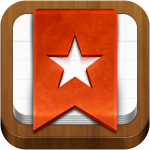 2. Wunderlist: Helps you get things done
Because I don't love Evernote for to-do lists, I use Wunderlist instead. Wunderlist is a dead-simple task manager that keeps your life in order. They've just released a major upgrade with a ton of new features for collaboration and more detailed task management while still managing to keep the interface clean and simple. I live by the rule that the best to-do app is the one you actually use, and Wunderlist fits the bill. It's free for all platforms and I highly recommend it.
3. Balsamiq: Helps you rapidly create wireframes
For my work, I am constantly working on new features for our business planning application as well as new layouts for our web sites. While sketching on paper is great, I prefer working in a wireframing app to sketch out my ideas. While Balsamiq isn't free, it helps get my ideas on virtual paper quickly. Moqups looks like an excellent, and currently free, alternative that's also worth taking a look at.
4. Google Drive: Helps you easily create documents, store them, and collaborate with other
Keeping as much of my work as possible in the cloud has been a huge productivity boost for me in the past year and Google Drive is a key component to that strategy. Beyond the ever-evolving and improving apps for creating documents, Google Drive lets you upload virtually any kind of file and easily share it and keep it synced across all of your devices. While DropBox is also great for syncing files, the ability to create and edit documents and spreadsheets puts Google Drive on top for me.
5. Expensify: Helps you manage receipts and expense reports
I think we can all agree that expense reports suck. Keeping track of receipts is a hassle and then submitting them all at the end of the month can suck precious hours out of your day. This is where Expensify comes in. After any business meal, all I do is take a picture of the receipt with Expensify's app and it keeps it safe and organized for me; making expense reporting simple. You can even forward email receipts to Expensify and it will categorize those for you as well.
6. Pocket: Helps you save articles for reading later
Formerly Read It Later, Pocket had a major overhaul this year that makes saving articles easier than ever. We are all exposed to a great deal of valuable information on a daily basis. Unfortunately, we can't possibly read every relevant article, white paper, or ebook and still remain productive in our daily lives. Pocket's simple bookmarklets makes saving articles for reading later easy. As an added bonus, when you read an article in the Pocket app, they strip out all the ads and create an excellent and relaxing reading experience.
7. Card Munch: Helps you easily turn business cards into contacts
I hate business cards. They're an antiquated way of sharing our business information, but no one seems to have come up with a better alternative yet. So, instead of letting business cards clutter up my desk drawer, I use the Card Munch app from LinkedIn. You take a picture of a card and the app reads all the critical information from the card, sends a LinkedIn request for you, and adds the contact to your address book – no typing required.
8. Paper: Helps you sketch and draw
While I love Balsamiq for sketching web site layouts, sometimes I still just need to sketch and draw. Paper is really the best app out there for iPad users and while I'm never going to come close to creating any masterpieces like some people have created using the app, I still like to pretend that I can sketch. Penultimate is a close runner up and has solid Evernote integration as well.
9. Cloudon: Helps you access Microsoft Office from mobile devices
While I prefer to use Google Apps/Drive for most of my document creation and editing, sometimes I just need access to Microsoft Office. Instead of having to jump onto my laptop, I use CloudOn to access Microsoft Office from my iPad (they also have an Android app). CloudOn also stores your documents in the cloud, so they're accessible from anywhere.
10. Basecamp: Helps you easily manage projects from anywhere
While Basecamp is certainly nothing new, 37Signals launched a top-to-bottom overhaul of the service this year that simply made the service better and more enjoyable to use. Here at Palo Alto Software, we fully embraced Basecamp this year and use it to run all of our projects. It's an indispensable tool for us and not a day goes by that I'm not in Basecamp.
11. Google Hangouts: Helps you host virtual meetings face-to-face
I use Google Hangouts every day to collaborate with our remote workers in Ireland and Bend, Oregon. While Skype is also a great alternative for voice and video chat, you don't have to pay Google to have multiple users on video chat at one time. The one thing that I wish Google would improve is their screen sharing. Currently, Hangouts share the screen in a small window that can't be easily resized or zoomed. As an alternative to Google's screen sharing, I often use Join.me which is an excellent free service for screen sharing with remote workers. You can use both Join.me and keep your Google Hangout going at the same time, so you get excellent video chat and can share your screen at the same time.
12. TweetDeck Helps you get the most out of Twitter
Everyone has their favorite Twitter client and mine is TweetDeck. TweetDeck gives me a quick at-a-glance view of several different saved searches and Twitter lists so I can quickly see what's going on with my company and product mentions without having to navigate through several screens. A quick scroll gives me all of the information I need and keeps me from getting too sucked in to Twitter.
I'm really curious to hear what key apps others use to improve their productivity. I try and improve my productivity every year, and there's no time like the New Year to set some new goals and put some new systems in place.

As a New Year's resolution bonus, here are two more apps that can help with other, non-work productivity and resolutions:

Duolingo: Helps you learn a new language
Thinking about learning a new language this year? Check out Duolingo's free app and start learning right away.
Nike Training: Helps you stay fit
If getting in better shape is on your list, I recommend the Nike Training app. It has tons of excellent exercises and videos to keep you inspired. It's also free and is really helpful if you're looking to add some variety to your exercise routine.
Happy New Year!