I found out later she really didn't want to do it. Clover Earl (second from left in the picture below) so much didn't want to that she actually went back to the registration and took her business card out of the basket. She smiled and said "No, not ready." But there was a chance to win software instead of three minutes with the microphone, so she put it back in.
And, you guessed it, she won the microphone time instead. The elevator speech she didn't want to give.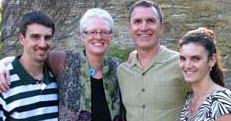 Which was one of the best elevator speeches I've seen. And I've seen a lot of them.
"I am so nervous," she started, with a booming theatrical voice laced with excitement. And in that first two seconds, she had everybody in the room–a room full of entrepreneurs, investors, accountants, attorneys and students–on her side.
Then she told the story: how she and her boyfriend Tom Zell, now her husband, made her a cup of European-style drinking chocolate and she said
This is the best thing I have ever tasted–other people need to have this experience–we should start a company.
I consider myself a veteran of the elevator pitch, the quick speech. I've done a four-part series on my Planning Startups Stories blog about how to do it. And Clover Earl, without practice, without notes, without reading up on the whole thing, did it about as well as it could be done. She told the story of Sipping Dreams.
Which proves that when you get right down to it, this elevator pitch is about telling your story. Be authentic. Be yourself. And tell your story. There is nothing more important than that.
So they started a company. Along the way they also got married and brought Tom's two children into it (so that family picture above is also the company picture), plus capital from Clover's father. They mixed the chocolate up and packaged it and took it to the local stores in their cars. And built sales. As Clover tells it, they started last fall, showed the product at some local trade shows, did a Valentine's Day flier, gave samples away, got local stores to carry it . . . now they're nominated for an Oregon State University family business award, looking to organize channels and marketing strategy, and worried about running out of capital.
And Clover's three minutes ended up as one of the highlights of last week's Smart-ups meeting. And that software she wanted more than the microphone was Business Plan Pro, so we ended up meeting her afterward and giving her that, too.
So now, in Clover's own words:
Waiting with bated breath to see what happens next!
I definitely believe the bated breath. She did the entire elevator speech with bated breath. And it worked extremely well.