Meet Mark and Mary Ann Beauchamp.
Cafe' Yumm! is one of Palo Alto Software's favorite lunch places in town. Good, healthy food and just around the corner. Last year, I had the chance to sit down with Mark and Mary Ann and ask them to tell us their story.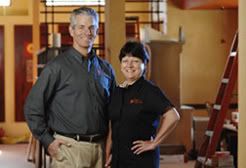 My story begins where all of our stories begin – at my birth in Tokyo, Japan in 1950, to an American serviceman and his young Japanese wife.
From an early age, circumstance, parentage and fate stepped in to shape the events, give me the passion and hand me the knowledge, tools and people I would need to help create a business my husband and I could never have envisioned in our wildest dreams.
Mark came into this process so early on that the Cafe Yumm! story is truly our story. His life and beliefs were being shaped in a different way than mine, but we emerged, together, with a similar philosophy and desire to eat great food – healthy food – and be able to feed and teach other people to do the same.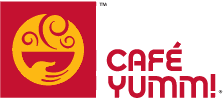 We never expected to come up with a product and business that would succinctly speak a unique language that would resonate with so many people. Our passion has become their passion, and for that, I am amazed and grateful. We are truly able to have a "lifestyle" business, where our life is supported by a business we are deeply interested in, have a lot of fun with, and most important, has given us valuable and meaningful relationships with many people with similar beliefs.
I have been fascinated with food and cooking all my life. Being born in Japan and then living in Italy when my father was stationed there for my early years set the background for my future culinary pursuits. At an age when most American children refuse to eat little beyond hot dogs, macaroni and cheese, hamburgers and spaghetti, I was dining on sushi, linguini with clam sauce, many varieties of fish, exotic vegetables and gourmet cheese. I was exposed to southern cooking – black-eyed peas, okra, mustard greens, ham hocks, gravy and my aunt's prize-winning pecan pie.
My dad was from Kentucky and they knew how to cook – and eat. Unfortunately, when I was fourteen, all that fried chicken, gravy, steak and butter ganged up and came calling in the form of a heart attack for my father. Worse than that, he was being fed chicken-fried steak and gravy in the hospital.
I knew even at fourteen there had to be a healthier alternative to the food the hospital was serving to a sick man. I questioned how an unhealthy body could handle such unhealthy food, much less get well. I realized at that point that we, as an incredibly abundant society, knew very little regarding nourishment and how our food choices got us in trouble in the first place. But at that age, I didn't really know what to do.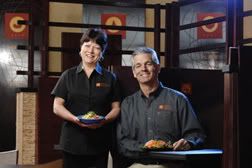 This quandary just remained with me, quietly, until I met Mark at the University of Alaska.
Mark was recruited from southern California to play basketball for the U of A in the early 1970s. I was a cheerleader there, following my dad's decision to move to Alaska after his Army career was over. Mark had the odd habit of eating salads and sandwiches with sprouts on them when the rest of the team was gorging on steak and burgers. He had been interested in food and health since he was a young boy, reading many of the "pioneers" in what was then the new health-food movement coming out of California. The day we met he was carrying a sprout sandwich! It was a match made in food heaven.
Later, when we decided to become vegetarians, our friends were aghast – "What will you eat?!" Knowing what a foodie I was, they seemed to think it wouldn't take long for me to get over this very bad idea. Actually, the foodie in me pushed me to create all manner of new things with a different set of boundaries and rules than what I had lived by before. One of the sauces I came up with for us and our two-year old daughter during my search for all things healthy and delicious was the now famous "Yumm! Sauce." In my first food venture, I made my own lunch with this sauce. People would see it, ask for a taste and, almost without exception, do a little knee dip, roll their eyes, and say "Yumm! What is this?" From there, I opened a deli and wine shop and my customers demanded this dish be placed on the menu. When this little layered bowl of rice, Yumm! Sauce, black beans and salsa became the most popular item on my otherwise very gourmet menu, we felt we were truly on to something unique. People wanted it for the taste and texture – it was a plus that it was also healthy. We eventually changed the name of our deli to Cafe Yumm!
In 1999, we opened a second location, and added a third in 2002, all within three miles of the other. In 2000, Mark joined the business, leaving a well-paying career as a managing broker for a large real estate company. We decided to take a leap of faith, believing in our product and ourselves. It was sometimes scary living on credit cards and hope during the number of years it took to get this venture off the ground. When the third café opened, it was a success from the beginning and in a location which provided a huge influx of new customers. We stopped most advertising because "word of mouth" was working so well, we almost couldn't handle the amount of business we were generating.
At this point, more and more people were inquiring about franchise possibilities, but we didn't give it a thought. It was only after we sat down and talked about what we wanted to accomplish, both philosophically and financially, that we knew a "mom and pop" operation wouldn't take us there. We began to receive inquiries as to investment opportunities as well as employment inquiries from highly skilled professionals wanting to work for us. After being in what he called "franchise denial," Mark began to take the steps toward that possibility. For one, we really wanted to get this food out to more people, and the only way to do that was by franchising.
When Mark got serious, Business Plan Pro was the perfect tool for us. Using Business Plan Pro helped us plot out a strategy for our existing business as well as realize our dreams for other stores and product lines. It showed us where our assumptions needed adjustment and really focused us on milestones and the financial realities as well as the possibilities.
Today, we own three Cafe Yumm! stores in Eugene, Oregon, and a franchisor entity – Beau Delicious! International, LLC – which opened a company-owned Cafe Yumm!, newly designed with beautiful, environmentally sustainable materials. A franchise store is opening in Springfield, Oregon, in November, and another franchise is scheduled to open in Bend, Oregon, in November as well. Serious inquiries are underway for Corvallis, Portland and Boise.
Cafe Yumm! won the 2007 "Environmental Values" business award, beating out 18 other nominees. Our Yumm! Sauce is produced by Rising Sun Farms in Phoenix, Oregon, and is distributed statewide to 70 grocery stores, including major retailers Whole Foods and Market of Choice. The success of our Yumm! Sauce has encouraged us to introduce some new products as well. Look for them soon.
From a homemade sauce created in my kitchen for our family, a huge network of people and friends has been brought together to help us achieve a dream.
We are the dreamers – Business Plan Pro helped us realize our vision.
— Mary Ann Beauchamp