How Facebook was Founded, and its two companion pieces on Business Insider, should be required reading for all entrepreneurs and all startups.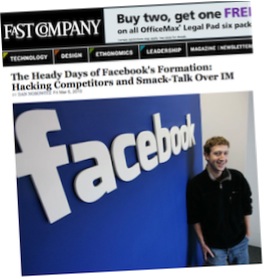 The fabulously and typically murky early history of Facebook has very little legal or historical importance. But there are at least three good reasons to read it:
It's a really good, true story about what has become a huge business success. It's fascinating. Here's what happened. The lies, the competitive maneuvers, information-hungry e-mail hacking. It's all there.
It's a great example of the kind of so-called idea-stealing and machinations that go on all the time. We get to know it later only because this particular rocking-foundation startup history became Facebook.
There are several extremely important business lessons here: Get it in writing, early. Keep your good ideas to yourself. Sometimes sleazy behavior is worth a whole lot of money. Nobody owns ideas. Good ideas belong to whomever implements them first. Ideas are easy, and doing stuff is hard. (All the links here are to previous posts on this blog–sorry, I couldn't resist).
To see all of this, you can start with The Heady Days of Facebook's Formation posted by Dan Nosowitz in his Fast Company blog. That will take you to a three-part series on Business Insider, beginning with How Facebook Was Founded.
It's not about the legal battles that are now pretty much over, with Facebook founder Mark Zuckerberg in the legal clear with his $10 billion (or so) company. Dan says it well in his post:
. . . drawing conclusions from the instant messages of a 19-year-old kid is, at the least, a bit of a stretch.
And Facebook management, asked to respond to the well-detailed and uncomfortably shady early days, the whole thing of whose idea was whose, has a solid answer:
"We're not going to debate the disgruntled litigants and anonymous sources who seek to rewrite Facebook's early history or embarrass Mark Zuckerberg with dated allegations. The unquestioned fact is that since leaving Harvard for Silicon Valley nearly six years ago, Mark has led Facebook's growth from a college website to a global service playing an important role in the lives of over 400 million people."
I think this kind of stuff happens all the time. I've posted about it on this blog before, and this story is mostly a great reminder (again). So read it and remember: Facebook's success is Zuckerberg's. The others walked away with, gulp, $65 million. They were incredibly lucky to get that from an unimplemented idea; it was only because of Facebook's implemented success that the money was available.