Hooray for bootstrapping. My startup mistake number 7 is accepting the popular myth that has startups always requiring winning investment from some outsider. This idea is way too common in business schools, blogs and books.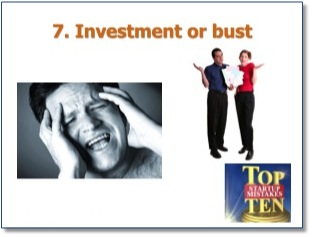 Sure, a few thousand high-profile startups get investment each year, but the vast majority of startups are bootstrapped. I saw a Wells Fargo study just a few years ago showing that the average startup cost in this country is $10,000. And that, obviously, isn't something you get from outside investors.
In addition, we gloss over the glaringly important fact that investors make money when a startup sells itself to some large company–called the exit. Just staying healthy and growing isn't enough. Exits used to include going public with stock, so anybody could trade it; but that rarely happens anymore.
Lots of great companies don't exit. They start, survive and grow. Their owners make money, their employees (often the same thing, owners and employees) make money, but there's no exit. Or at least, not within the three- to five-year period that investors need.
And investors aren't bad people (I'm an investor myself, through the Willamette Angel Conference, and I like me). But they invest to make money, and they don't make money unless there's an exit.
So, if your own pet startup can't get investment, get a clue. Revise the plan. Start smaller. Focus better. Get some early sales. Or keep your day job.