Sorry. There's no free lunch. And there's very little free government money for you to start your business.
You've probably seen Matthew Lesko on television. He's the guy with question marks all over his sport coat who talks very fast and offers free government money. Sometimes he throws bills in the air. Free government money to start your business. He shouts examples.

You can go to his site if you want — matthewlesko.com — and buy his information. Or you can go to a number of competing sites and buy their information about free government grants. Do a Web search and you'll be deluged.
If you look carefully, you'll see that Matthew Lesko and his imitators (let's give him credit, at least he's an original) don't sell government grants and don't give away free money. They sell information. The best of them — which, for all I know, is presumably a short list starting with Mr. Lesko — probably have valid information to sell. The worst of them are scams, laughing at you, calling you sucker, getting your money and giving you very little in return.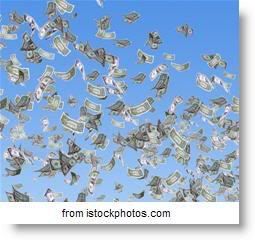 The grant information sellers are not necessarily lying and cheating and stealing, at least if they give you decent lists, but just don't think a list means that it's worth your time to start applying for things, or that you'll actually find things to apply for. Many people have had similar experiences with businesses that sell scholarship information for kids applying to colleges: you pay your money, you get a lot of information, but you still end up working the scholarship through the schools.
Okay, yes, it is possible, but grants are extremely unlikely. Subsidized loans are much more common, but that's not free money. You have to pay it back, although usually at an attractive interest rate. And you can't get a subsidized loan for the full startup costs, just a portion. So unless you're the target of some government objective (like developing under-developed inner city areas, some post-disaster objectives, or sometimes social objectives) then do follow up, but don't get your hopes up.
To follow up on this, my recommendation is first find your nearest Small Business Development Center (SBDC). There are about 1,000 SBDCs in the United States, funded by the SBA, states, and local higher education. They know how to help you get started and they are surprisingly economical. After the SBDC, contact a local bank, preferably one you already deal with, and start asking questions. Then try with your Chamber of Commerce, and city and county governments. With all of these, expect that the first person you talk to won't know, but ask that person, each time you talk with anybody, who will know. You'll get more useful information that way than by buying lists.
You should also browse the SBA's website at www.sba.gov. And, by the way, you can get a list of SBDC addresses at www.bplans.com/sb/.
It should be pretty obvious that governments don't give away startup money that easily. Think about it. That's tax money.
– Tim