Packaging is a fantastic marketing channel that's often overlooked. It's the ideal canvas for branding, but it's also a significant environmental factor for your brand. 
Yes, more packaging is being recycled now than ever, but we're also using more than ever before. Single-use plastic packaging, cardboard packaging, mailing labels, bags — even the most eco-friendly and bio-degradable packaging uses energy in its circular economy. 
Brand owners are responsible for the carbon footprint of their brand — packaging, product, delivery process — all of it. So, how can a business, small, medium, or giant global conglomerate implement a 'better' form of packaging? Not just from a financial point of view, but an environmental matter, too.
That's where value-engineered packaging comes in. In this article, you'll see precisely what value-engineered packaging is and how it can simultaneously help your brand, your image, and the environment.
What is value-engineered packaging?
Value-engineered packaging combines materials technology, technical design, and environmental conservation to dictate the creation of a packaging solution from the ground up. 
This concept is in opposition to using a standard, off-the-shelf packaging solution designed to suit a wide range of products. Value-engineered packaging is designed to serve one or a very select few SKUs. 
It's the role of the packaging engineer to design the packaging product. With a background in design, physics, and skill for sourcing raw materials, a packaging engineer takes your product and runs it through a series of complex processes and design phases to create a prototype of the packaging solution.
It's important to note that value-engineered packaging isn't just about the box. How and where it's produced plays a part, along with where the raw materials come from. As well as the job your packaging plays in your fulfillment process and supply chain. Performance, in the sense of weight, security, and thermal regulation, are other factors that influence value-engineered packaging. 
They look at not just the physical packaging used but also where (and how) it's produced and its position in your fulfillment process and supply chain. Other elements like security, thermal insulation, and ease of use during the delivery process are also factors that are taken into account. 
What are the benefits of value-engineered packaging?
The benefits of designing packaging from the ground up are comprehensive.
They include:
Lower packaging costs – overall and per unit
Lower carbon footprint
Optimised order fulfilment
Decreased deliver costs
It's easy to list a whole lot of benefits, but let's take a look at a real-world example.
Raylo, the British Telco brand, is a fine example of a company that leveraged the benefits of packaging designed from the ground up. 
The company used a packaging engineer to lower their packaging costs by over 10% and their overall shipment weight by 21%.
Raylo, a company that resells products from other companies (Apple and Samsung), doubled down on their packaging to ensure that users associate the product and experience with them rather than the manufacturer.
Sustainability and value-engineered packaging
Are you currently using an off-the-shelf packaging solution? Here are several reasons why making the change is the best way to lower your ongoing packaging costs.
Uses less
Packaging designed for your product aims to use only what's necessary when it comes to design. No edges are too long, no surfaces too big, and no internal space wasted. Every edge, curve, and fold has its purpose. 
As your product defines those purposes, there's not only less material that needs to be manufactured but less that has to be sent and disposed of. Regardless of whether your packaging ends up recycled or in a landfill, less packaging that has to go there is always a good thing.
But that doesn't mean that using 'as little as possible means your security comes second. Security is built into the design of your packaging. That means that if an edge has to be longer to keep your product away from the internal surface of the packaging, that edge will be there. 
Furthermore, internal anchor points mean that there's no need for you to use bubble wrap, tissue paper, or some other type of void filler. In other words, less material and few products are used to perform the same role. 
Lower carbon footprint
The result of using less raw material in your packaging design is fewer emissions expelled in the product on it.
But that's just the emissions in the creating of it. With no excess material, there's less weight, meaning fewer emissions made in taking your packaging from its point of manufacture to your warehouse and from your warehouse to its final destination.
Not only does lighter packaging mean fewer carbon emissions, it means lower delivery costs. Costs that you can pass on to your customers, making your brand more financially competitive.
Less filler, more killer.
Packaging customized from the ground up can fulfill several roles. It also keeps your product secure, thus eliminating the need for more packaging filler and other products. 
One less packaging expense not only puts more money into your pocket but means fewer materials that your end consumer has to throw away.
Here are some other ways that you can incorporate other packaging products into your packaging design.
Print a thank you note on the inside lid of your packaging, rather than adding in a separate note or card. 
Rather than adding business cards and stickers, print your social media handles on the box
Print a QR code that links to a page with a discount code, rather than adding in a separate card
It's at this point that you can start to see the role that value-engineered packaging plays in your branding and unboxing experience.
Who is value-engineered packaging for?
Packaging designed from the ground up is suitable for many brands using many business models.
Established eCommerce/D2C brands that have successfully launched and are now growing are primed to get the most benefits from value-engineered packaging. When these brands launch, the packaging is often left to the last minute. Therefore, a generic, off-the-shelf solution is the one most sought after. 
Once these brands have cemented their foothold in the industry, growing and scaling become a priority. So does cost optimization. That's where value-engineered packaging comes in. It can help lower the operational costs of an online business that's spreading its wings. 
Value-engineered packaging isn't ideal for brands that are in the testing and experimentation phase of their operations. It's also not for brands that are testing and experimenting with new products. If your products aren't a staple of your range, creating packaging especially for them may not be the best use of resources. 
Simply put, established online retailers in the form of D2C brands, marketplace sellers, and stand-alone eCommerce stores that are looking to grow while keeping costs down are the ideal brands to leverage value-engineered packaging.
How to develop value-engineered packaging for your business.
Intrigued to see how you can start using this type of packaging solution in your business? Here are several key concepts to keep in mind as you venture further into value-engineered packaging.
1. Don't reinvent the wheel
If you Google 'sustainable packaging,' you'll be inundated pages explaining how seaweed-based packaging in the future, plant-based bubble wrap is what the world needs, or shipping bags you send back is the way forward for eCommerce. 
Those things are great, and those statements may very well be true. But the fact is that it's only giant companies with millions to spend on R&D that can afford to actually implement any of that.
Ask yourself—What's more sustainable? A plant-based bubble wrap or a packaging solution that removes the need for any form of internal cushioning?
Design plays one of, if not the most significant role in sustainable packaging.
You can use all the seaweed in the world to package your soaps. But there will always be a point at which you're using too much.
Value-engineered packaging aims at finding that point and creating a packaging solution around it. Regardless of whether your packaging is made of seaweed, mushrooms, or cardboard.  
2. More than just a box
When creating your packaging from scratch, you take a comprehensive overview of all the packaging products you use and the processes they're a part of.
This makes it easy to find savings — both financially and environmentally.
If your focus is on creating the ideal box for a single SKU, you'll create a better box for a single SKU. You'll entirely ignore the process of improving the way your company uses packaging.
Consider things like void filler, stickers, packaging labels, tape, invoice pockets, and so on. A packaging engineer looks at how you use these 'packaging accessories' to influence your new design. 
Is your packaging delivered to your warehouse flat or already assembled? What's easier for your employees to work with, packaging that arrives flat or already assembled? Packaging engineers look at the paths your packaging takes from the moment it arrives at your warehouse to when it leaves your warehouse with your customer as its final destination.
Only when your packaging is optimized around other consumables and for your fulfillment process can the value of value engineering your packaging be seen and felt. 
3. Start with substitution
The best place to start if you're to implement value-engineered packaging is to look at material substitution.
You've likely been thinking about the humble corrugated box when you've thought of packaging. And that's good. 
The truth is that corrugated cardboard packaging made from FSC certified cardboard is some of the most eco-friendly packaging available. Most importantly, it's also one of the most accessible packaging materials that almost any brand can implement. 
That being said, the energy required to turn recycled cardboard into a pulp and then back into a cardboard box is relatively high. Take a look at the products you're selling. Do your sweaters and pants (that are, by design, exceptionally durable and flexible) need to be sent in a corrugated cardboard box? Perhaps some type of postage bag is a better option.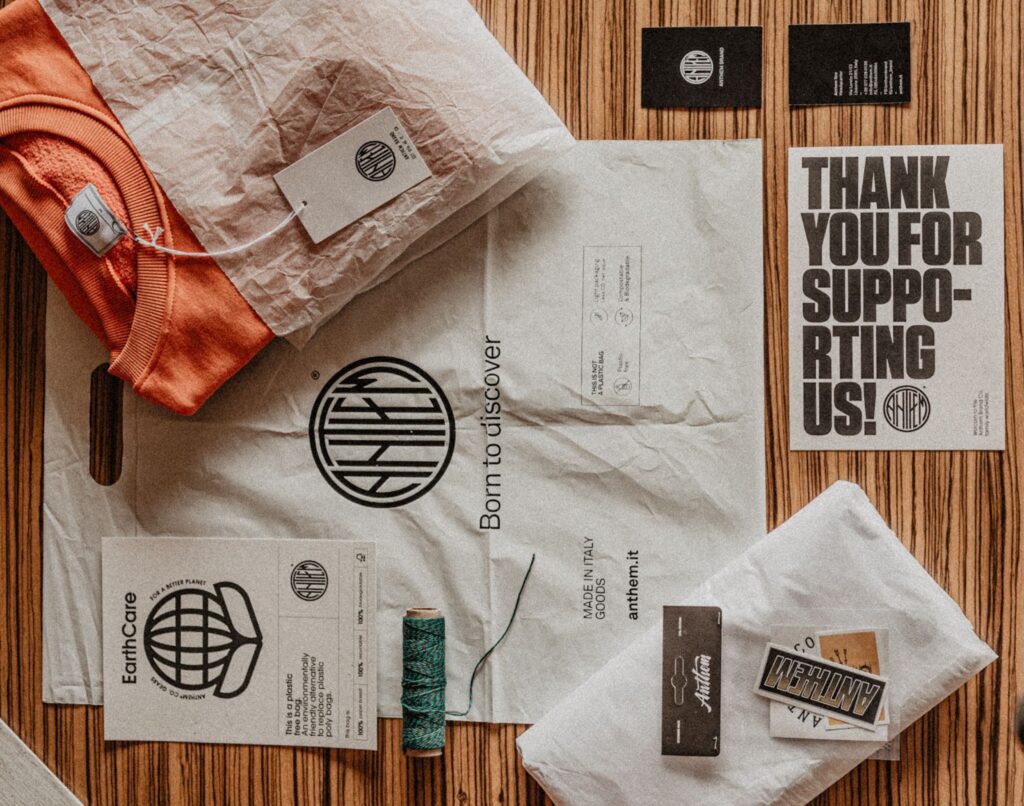 Not only is it lighter by design, but it also uses less material overall. Some versions of these bags are entirely biodegradable. They also take up less space on your warehouse shelves, and there's no need for tape to hold them closed. 
Ultimately, the point is this: You can be your packaging engineer by substituting existing materials and reevaluating your current packaging choices.
You can send socks, wallets, gloves, jewelry, and other clothing accessories in a small cardboard envelope or cardboard can. 
On the other hand, if you're selling in your retail store as well as online, an entirely customized mailer box might be the best solution. It not only keeps your products safe during the delivery process, but it can fulfill a marketing role in retail store shelves, contributing to an overall image of your brand. This ultimately eliminates the need for some type of retail-store-specific product packaging. 
4. Total number of SKUs
Any warehouse manager knows the benefits of good inventory management. And when you have to manage SKUs in the thousands, or even hundreds of thousands, the fewer, the better.
Value-engineered packaging lowers the amount of packaging-related SKUs in your warehouse. Your packaging engineer can take several products of similar physical dimensions and properties and create a packaging solution that's optimized for all of them. 
You're probably not going to deliver socks in the same packaging as you would a vacuum cleaner. However, the more packaging materials that are unified over more SKUs, the better. 
This is usually done by a packaging engineer making prototypes of the ideal packaging for several products and then amalgamating those prototypes into one single packaging design. The result is precisely that — one packaging solution that performs as best as possible for several similar products.
This has ripple effects elsewhere in your business. More SKUs fitting into fewer packaging products means more space in your warehouse, lower packaging costs, and excellent fulfillment efficiency. 
Over to you
Creating packaging from the ground up specifically for your product(s) results in savings for your back pocket and the environment. Less waste, fewer carbon emissions, more warehouse space, and more savings to pass onto your customers. 
Consider taking a look at the packaging solutions you're using now. If you want to reap the benefits of value-engineered packaging, reach out to a packaging engineer or specialist.