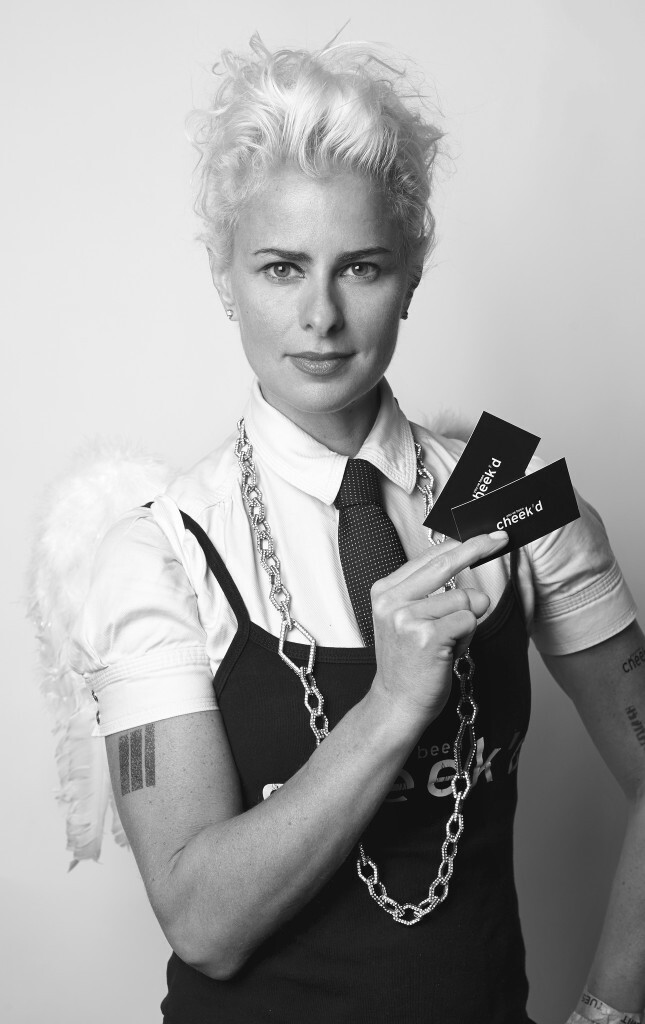 For savvy startup marketing, look no further than Lori Cheek. In 2010 Lori launched Cheek'd.com, an online dating site that combines "old-school calling cards with the power of the internet." The inspiration for the business came to her two years previously, when out to dinner with a colleague from the architectural company she worked for at the time. As they were exiting the restaurant, her colleague slipped his business card to an attractive woman. On the card he'd scribbled "want to have dinner?" In Lori's own words, "he left with a date. I left with an idea."
To get started on Cheek'd, you first buy a deck of cards from the website. Perhaps a stack of 'I don't give these to everyone' or something as understated as 'hi'. Once you've done that you download the mobile app. Activate the cards and let the fun begin. Hand them out to sexy strangers and chat instantly via the mobile app.
Beyond the different approach she's taken to the traditional dating website model, Lori has also been praised for her exceptional marketing abilities. The growth of her startup is all due to her own efforts:
"I wasn't able to afford a PR firm. As a very creative, social, ambitious, and passionate entrepreneur, I decided to take on the responsibility on my own. I spend lots of my time guerrilla marketing, sidewalk chalking my URL and slipping Cheek'd Cards into pockets, hoods, bags, etc. My favorite story to date would be the personal Lori Cheek'ng of Hip-hop mogul Russell Simmons."
For Lori, spreading business cards has worked best. As part of her latest campaign, she took advantage of New York's Citibike Bike Sharing Program and placed Cheek'd cards in the baskets of as many bikes as she could. Each of these cards included the company name and the words "my bike likes your bike."
"I'm getting tons of hits from the codes on those cards—it's working as planned and driving traffic to my website."
But it's not just getting out there and spreading the word that sets Lori apart from other startups, it also has a lot to do with how easily she tells her story. It's interesting, creative, and full of details that are ripe for the taking. If you're a business owner and you're looking for inspiration—shoestring budget or no—this is the gal to look to.
"I'm constantly plastering the brand and product; I carry around Fun-Tak (a sticky adhesive) and attach Cheek'd cards to the inside of the subway cars, movie ads on the platforms, the back of bathroom stalls and I even tag noticeable existing street art. I'll leave the cards in the sugar stacks at Starbucks, drop them into people's shopping bags, pockets, etc. I've even slid a few into dating books at Barnes and Noble to see what kind of traffic they'd drive. I often sidewalk chalk "have you been cheek'd?" outside of large events and parties and even have a cheek'd stamp with a code that leads to my profile that I'll stamp on cocktail napkins at bars. I've had people send me messages via my marketing code that say things like, 'I found your card riding uptown on the 9 train' or 'I don't know how this card ended up in my pocket, but I'm intrigued.'"
When asked how to get media coverage, Lori says that she prefers to take a subtle yet persistent approach.
"My number one marketing tip is don't just think outside the box, get rid of the box! Be creative. Think Guerrilla. And if that doesn't work, sometimes it just doesn't hurt to ask. I've ended up on the news many times by just calling up the news channels and asking them if they'd be interested in featuring my business. It's sometimes that simple."
There's no doubt that when you take a birds-eye-view of Lori's marketing approach, it may seem that simple. The truth is, your success is going to be at least in part dependent upon how much work you're willing to put in and how good you are at telling your story.
Not everyone is able to go to quite the extent Lori does. Thankfully, for those of us without the chutzpah to slip our business cards to Flo Rida himself, there are other solutions.
A recipe for marketing on a shoestring budget
Lack of funding is a problem many people face when looking to start a new business. Sometimes, taking out a loan is not possible or is simply not enough to cover costs. While there are many funding alternatives, including crowdfunding, equity-sharing, and pitching for angel investment, if you'd prefer to go without the loan, there are a number of things you can do yourself:
1. Blog and be an active contributor within the blogosphere
In 2014, a primary tactic used to get found online is 'content marketing', or the production of content that is engaging, relevant to your target audience, and that uses the keywords you think people will be typing in when looking to find a company, product, or service just like yours. In addition to maintaining a regular blog, we suggest engaging with other bloggers. Not only will this help you to build relationships online but it will also give you a chance to stay on top of what others are talking about. Make sure you're engaging with relevant blogs though. If you're venturing into gourmet cuisine, you're hardly going to want to be spending all your time with fashion bloggers!
2. Join online communities and maintain a social media presence
LinkedIn and Google+ are great platforms to turn to if you're looking to find and join a community of people that will be interested in what you have to say or offer. To become an active member you don't even need to start your own community. In fact, I recommend first joining other existing communities to get a lay of the land. What are people discussing? What are others responding to? You can learn a lot within these groups. Be sure to also join in on the conversation and when relevant, mention what your product or service can do to help.
3. Ask your current customers for referrals
There's absolutely nothing shameful about asking your customers to refer a friend or two if they're happy with what you provide. People prefer to do business with people they know, or with people they know of. Next time someone compliments your product or service, thank them and be sure to ask if they know of someone else who might benefit from what you've got to offer.
4. Pitch the press
Before you do this, get your "corporate story" straight, after all, this is what you're really selling, and this is what people are interested in reading about. Products come and go, but great stories remain alive in our minds long after the product has had its day. People like Galileo, Henry Ford, Albert Einstein, and Steve Jobs are especially memorable not just because of the things they made, but because they lived interesting lives, faced challenges, and overcame them. A great CEO, company, product, or service is one with a story. Take advantage of your own life to create your company story. Once you've got that ready, you can begin writing to newspapers, magazines, editors, and journalists. Twitter is a good place to get started—many journalists have Twitter accounts which you can skim through to figure out whether they'd be interested in writing about you. You can also use websites like Help a Reporter Out, My Local Reporter, and ProfNet to do some easy PR outreach.
5. Network, be friendly, and speak up
Great networking is about developing real relationships that are beneficial to both parties. Poor networking is shallow transaction-driven. If you're going out to speak to people solely with the intention of selling your product or getting what you want, you're unlikely to build trust, and therefore unlikely to get what you want. On the other hand, if you are genuinely interested in the other party, you're far more likely to find them opening up and getting in touch with you after the event.
According to David Prochaska, Founder and CEO of ePoint Digital, developing relationships within your local community is the best way to get your first customer. For David, Meetup groups and the local Chamber of Commerce helped him establish and build relationships with people that then referred business to him. In his own words, there are three things you should be doing if you want to get your company off the ground:
Build relationships. This is the most important thing because when people like you, they will refer you. When they refer you, it's pretty much a sale closed.
Go out and talk to people at networking events and show genuine concern about who they are and what they do.
Follow up from networking events. Highlight key points of the conversation with whomever you talked to.
Another digital firm, tMedia, run by social media expert Carisa Miklusak, cites public speaking as a top lead-generator. tMedia researches conferences that might be interested in having them host a workshop or come in as a keynote speaker. Signing up for one or two speeches a month, they are consistently marketing themselves and cementing an image of expertise in their field.
6. Create a Marketing Plan
By starting off with a marketing plan, you're really putting the time into laying out exactly who your target market is, what your competition is like, your company's strengths and weaknesses, and any budget or advertising plans that you'd like to remember. Like a business plan, a marketing plan is not a static document, but rather something that can be adjusted and added to over time. As you update it, you'll also be getting a better understanding of your business and of how you came to be where you are today. If you're unsure about how to write a marketing plan, there are hundreds of sample plans available online to help you get started.
While this is by no means a conclusive guide to marketing on a shoestring budget, it's a list of tried and tested approaches that will give you a PR boost. As you're just getting started, enjoy the ride and take every opportunity to spread the word as creatively and proactively as possible.
Leverage the influential, spread your business cards in original ways, provide customer service that goes above and beyond, involve your customers, exhibit your work, offer promotions, give your product away, tell your story and above all, have fun!