It's a simple idea, really. The e-mail I got from Christopher Dabrowski described it as: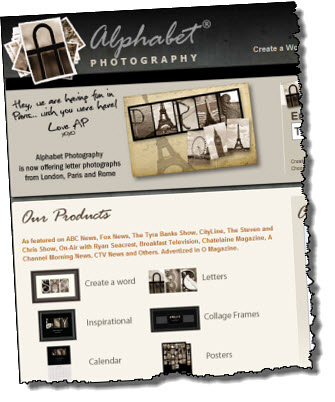 Canadian Entrepreneur Jennifer Blakeley spent three years traveling across North America to collect photographs of objects and scenery that resemble letters of the English alphabet. The idea was inspired by the children's book "Alphabet City".
I got curious, clicked, and discovered Letter Art–Alphabet Art | Alphabet Photography, shown here. Pretty cool.
It looks like nice photographs, carefully collected, used to write a word as a collection of photographs. For example, I typed in "Tim" and here (below) is what came back.
The idea is simple, right? Jennifer Blakely took her talent, what she likes to do, and found an angle. It's not just take pictures and sell them; it's something different and therefore more valuable.
She's got the idea, the photos and the website, and now it's a business.
Is there a problem? Sure, maybe somebody else can do the same thing. Does she have to move very quickly now, get investment, become known the world over as the photos and letters person? Before somebody bigger does it?
I don't know. I doubt it. What do you think?
Like this article? Please share it:
How LivePlan makes your business more successful
If you're writing a business plan, you're in luck. Online business planning software makes it easier than ever before to put together a business plan for your business.
As you'll see in a moment, LivePlan is more than just business plan software, though. It's a knowledgable guide combined with a professional designer coupled with a financial wizard. It'll help you get over the three most common business hurdles with ease.
Let's take a look at those common hurdles, and see how producing a top-notch business plan sets your business up for success.
Click to continue