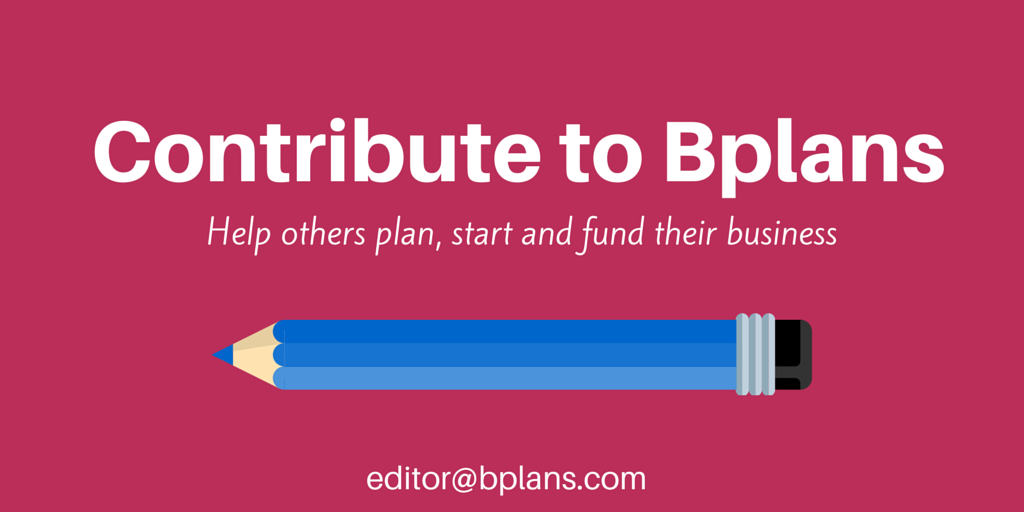 For the past 15 years, Bplans has been one of the top small business resources for entrepreneurs and business owners all over the world. More than one million people visit us each month in search of business planning and management advice, and more than 300,000 of our readers subscribe to our weekly email newsletter.
We're dedicated to giving our readers the best information there is on how to start and run a business. If that's a mission you can get behind, you've passed the first test of guest authorship eligibility. Other things we're looking for in a guest author? Expertise, good writing skills, and a solid understanding of who our readers are and what they want.
Bplans Audience
Established business owners looking for guidance on how to grow their companies, manage their finances, and seize new market opportunities

New business owners who want help understanding their cash flow, diagnosing what's working in their business model (and what isn't), building their reputation, and staying motivated

People who want to start a business and need advice on how to refine their idea, create their business plan, and find the funding they need to get started

Students in a business class looking for supplemental education to help them do their homework and study for exams
Bplans Voice and Tone
Our voice is human and familiar. We are friendly, and we keep our language plain and approachable—no undefined acronyms, and no business jargon or otherwise esoteric word choice (like "esoteric", for example).
Our tone is informal and positive, but also authoritative. We want everything—even the most serious, high stakes parts of starting and running a business—to feel straightforward and surmountable to our readers, and we want them to know that they can trust our advice.
A great example of this kind of voice and tone is Planet Money, an NPR podcast that does for economics what Bplans wants to do for small business: Make a confusing topic easy to understand, and maybe even fun to learn about.
Best Practices
The most successful guest author submissions are comprehensive, "how-to"-style articles that address the needs of our readers and teach them about a particular aspect of starting or running a business. Occasionally we also accept "lighter" pieces that are meant to be motivational or entertaining.
Proposed posts should, upon completion, be 1,000 words or longer.
We do also require all of our writers to have an excellent grasp of the English language.
How to Submit a Proposal
To be considered for publication on Bplans, please send a brief description of the article you'd like to write for us, a proposed headline for the article, and an explanation of your expertise in the article's subject area to editor@bplans.com. Use the subject line "Guest author article" for your submission; emails that do not use this subject line will not be opened. We will contact you within 2 weeks if we are interested, and will ask you for a full draft at that time.
Alternatively, if you have a draft ready to show us, please attach it. We prefer Google Doc attachments so that if we need to make edits or comment on your work, you have visibility. Please don't forget to give us editing access as well – make sure that you allow anyone to edit the article. When you submit your article, please include the following information about yourself, the author:
Your first and last name
A brief biography about yourself, as well as a longer one (optional). We use the short bio on the actual article page and the longer one if someone clicks through to find out more about the author. Only the short one is required.
Your Twitter handle if this exists (ex: @bplans)
Your Google+ URL if this exists
The Gravatar email that your profile image is attached to
If you do not yet have a Gravatar account, please set one up. It only takes 2 minutes. Please upload your profile picture to Gravatar. Once you give us the email address that you have used for Gravatar, our site will pull the profile picture you've uploaded. We do not upload pictures individually so don't send us an attachment with your profile picture. Please note that without this information, your post will not be published.
Please note: we reserve the right to include links to our own content within your article, as well as links to related content.