Every business needs to differentiate itself, to find a way to show the world how it's unique and different. If you were to ask the owners of 10 hair salons which products or service they sell or provide, most would probably start with "hair styling and coloring" or something along those lines. And you wouldn't have any clue what made them special, would you?
But if you asked Business Plan Pro user and hair salon owner Michael Helene Phillips the same question, her answer would be "customer service and relaxation." And you'd have a clear picture of what sets her apart from the crowd.
At Michael Helene Salon Gallery, customers can unwind with a glass of wine, enjoy the work of local artists and artisans, and of course get hair cuts, styles, highlighting and advanced hair techniques and treatments, as well as manicures, pedicures, and even massages. The focus on the whole customer is unique. Special services at the salon include everything from personalized shampoo formulations to a "Celebrity Room" where clients, ranging from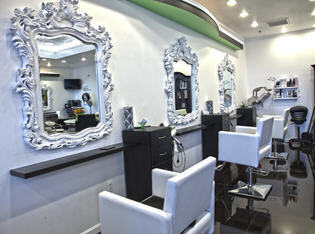 nursing moms to cancer survivors, can have a private room for their appointment. Michael considers "personal therapist" to be one of the roles she and her staff fill for their clients. "I believe that hair is the ultimate accessory. It can be the deciding factor between a good day and a bad day in many of our lives; my job is to make you many more good days" she says.
Michael opened her hair salon in 2011, relying on her credit cards and a loan from a client turned business partner. And while it's the first business she's started, she says it won't be the last. She calls her current salon her "flagship," and says "I want to develop the store into a training facility, start a product company starting with amazing conditioners for all hair types, and open at least one more salon in the area or either franchise or grow into a national chain." Not one to leave such big plans to chance, Michael  has been laying the groundwork by developing relationships with her local banks. "I figure if they know the salon is doing well before I need money, I might have a better chance of getting a loan to expand," she says. She also revisits her business plan to make sure she's on track to meet her goals. "I still use it to make sure my vision stays where I wanted it. It's a great tool for keeping me focused."
With such a unique, customer-focused approach to business, Michael says staffing isn't easy. "It is hard to find motivated, hard-working team members that understand your mission," she says, though she now has 13 employees who do just that. "I'm training my team to understand all aspects of the industry so that no one can compete with what we offer," Michael says. It's all part of her differentiation plan, with the ultimate goal being "to be known not only as  the best salon, but to have the best staff and customer service available."
Michael had been in the hair care industry for over 13 years before starting her salon, having worked behind the chair as well as behind the camera, doing hair for film and television. Starting her own business was a lot of work, she acknowledges. She said one thing she didn't anticipate about being a business owner was just how much time it takes to get things done. But she's not complaining! "I love looking at the sign outside, honestly. The hard work and dedication I put into it, and seeing the payoff, it's amazing and it makes it all worth it."
Like this article? Please share it:
How LivePlan makes your business more successful
If you're writing a business plan, you're in luck. Online business planning software makes it easier than ever before to put together a business plan for your business.
As you'll see in a moment, LivePlan is more than just business plan software, though. It's a knowledgable guide combined with a professional designer coupled with a financial wizard. It'll help you get over the three most common business hurdles with ease.
Let's take a look at those common hurdles, and see how producing a top-notch business plan sets your business up for success.
Click to continue