This article is part of our Nonprofit Business Startup Guide—a curated list of articles to help you plan, start, and grow your nonprofit business!
When it comes to marketing, nonprofits have a few things in common. First and foremost, every nonprofit relies on marketing efforts to attract donors and volunteers. Every nonprofit, no matter how well staffed, could use more marketing resources. And, last but not least, there are never enough hours in the day to accomplish every task on the marketing to-do list.
I've noticed these common threads in every nonprofit that I have worked with as a marketing specialist. I've watched leaders and volunteers work 14-hour days, stay open late to accommodate clients, and network their hearts out to make sure there is enough money in the bank to keep their lights on. With so much going on, it's no surprise that marketing sometimes takes a back seat.
However, when it comes to marketing, social media is an excellent tool for nonprofits. Social media can reach donors and volunteers, it doesn't require multiple staff members to manage, and it doesn't require a big time commitment.
To help nonprofits get the most out of social media, I've created this guide that nonprofits can use as a social media playbook. Whether you're new to social media, or a veteran, this guide is full of tips to maximize your time and exposure.
Frequently asked questions:
Like any nonprofit, you probably have some questions. Here's a quick list of the most frequently asked questions that I hear from nonprofits:
Which social media sites are best for nonprofits?
Nonprofits have had great experience with all kinds of different social platforms. Facebook and Twitter are the most common. If you're just starting out, I would start with one of these two.
If you're a social media veteran, you might want to try Jelly. It's a new Q&A platform that lets you interact with a large following of people.
How many social media sites should we use?
You can use as many social sites as you'd like, but don't over commit. Time is always a factor for nonprofits, so keep that in mind as you sign up for various social sites. If I had to give you a number, I'd say two social media sites is perfect.
How often should we post?
You should post at least once a day to every site that you run. If you can post more frequently, go for it. However, the key to social media engagement is consistency, so set a frequency schedule that you can stick to.
How often should we promote ourselves?
In the social media world, you want to adhere to the 80/20 rule. Eighty percent of your posts should be interesting content that's relevant to your nonprofit; the other twenty percent can be promotional. You don't want to go overboard with promotions because you'll sound too desperate, which turns off your fan base.
What to post:
Wondering what kind of post are the most useful? Well, wonder no more. Here are five kinds of posts that every nonprofit should have on their social media sites:
1. Show people how you help
Help your audience make a connection with your nonprofit by sharing a story about those you help. Whether you assisted a family with medical care, provided food for the homeless, or helped stray animals, it's important to show your audience how they help. Here's a great example from the Animal Humane Society:
2. Try a reoccurring theme
You're probably familiar with Throwback Thursday, right? For Throwback Thursday, every Thursday your friends post a picture from their past on their Facebook page. Well, you can try something similar. Think of a reoccurring theme that fits your nonprofit, and schedule posts ahead of time. For example, the Animal Humane Society has Success Story Saturday, and the Red Cross has Fire Safety Friday:
3. Share news updates
Share news articles that pertain to your nonprofit. It's a great, unbiased way to keep your audience informed about changes that impact your organization. Livestrong, for example, shared this article from CNN on its Facebook page: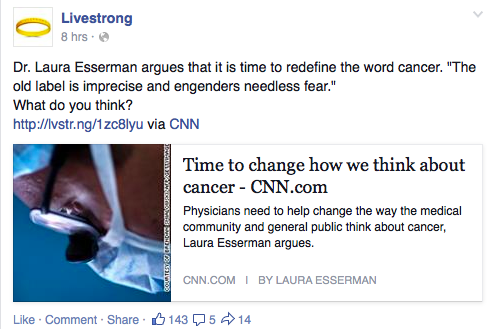 4. Say thanks
Social media gives your nonprofit the chance to publicly thank or acknowledge supporters. If a volunteer reaches a milestone or you receive a big donation, turn to social media and say thanks. It's always nice to be recognized, like this tweet from the Susan G. Komen foundation does:
5. Promote events
When you host an event, use social media to get the word out. You can even set up an event on Facebook so people can register with ease. If you don't know how, this short tutorial explains it in three easy steps. Here's how a food shelf promoted an upcoming event:
In addition to these five posts, you can also share statistics about your organization, tie posts to upcoming holidays, share pictures of events as they happen, offer small historical tidbits about how your organization got started, and highlight volunteers. The options are endless.
Tips to grow your following:
The success of your social marketing relies on attracting the right fan base. Don't get hung up on the number of followers. You're looking for quality over quantity. Five hundred followers who have an interest in your organization and are willing to contribute to your success are more beneficial than two thousand followers who aren't engaged with your nonprofit.
Here are some tips to attract your target audience:
Share content from other nonprofits. Share the social media love. If you share content from another nonprofit, they might do the same, which exposes your nonprofit to more people.
Tag others. Anytime you can tag others, you should. Again, it increases your exposure. So, when you're thanking an organization for a big donation, or if you just teamed up with a new business, include them in your post.
Put social media buttons in emails. Links to your social media pages should be embedded in your email signature. You should also include social media buttons in any email correspondence that you send out.
Run a contest. To boost your fan base, you could host a contest or a giveaway. By asking your current followers to share links to the giveaway, you can boost your following quickly. Check out this post on HubSpot to learn more about running a successful social media contest.
Timesaving tools:
You don't have to log into your social media accounts every day and create posts. There are several apps and online tools that you can use to juggle several social media sites and schedule posts ahead of time.
For example, with a management tool you can access your Twitter and Facebook account from one dashboard. You can post to both sites, schedule posts ahead of time, and keep an eye on your feeds—all from one place. Here are three of the most popular management tools:
Use a curation tool (see below)
You'll also want to share interesting content from other sources on your page, but who has time to scour the internet for articles, infographics, and videos that are relevant to your audience? To save time, use a curation tool. These tools scan the internet for content based on keywords that you supply. You get a list of relevant content, which you can share instantly or schedule for a later date. Here are two options:
Final thoughts:
Social media is a marketing tool every nonprofit should have in its toolbox. It provides access to donors, volunteers, and even clients who may need your support.
How does your nonprofit use social media? Has it helped your organization? Tell us how you utilize social media as a marketing tool, and share your tips in the comment section below.