I have always believed that if I want to learn something, I need to DO something. I need to take action. This is how I learned to cycle, how I learned to solder metal jewelry and how I learned to write fiction. That said, I find equal value in first reading about and learning as much as possible about a subject before taking action, particularly when knowledge will give me the upper hand.
This is one of the primary reasons that I spend a lot of time reading. In order to learn what to do and what not to do as a marketer, I've taken things a step further and found myself turning to Tom Fishburne's playful cartoons for the necessary wisdom.
One of the reasons I enjoy his work so much is that in each cartoon, he playfully captures something strange and often unnecessary that we as marketers, business owners and consumers are doing. I turn to Tom's cartoons to laugh as much as I do to learn.
This is why I've selected three cartoons that I feel are particularly relevant to anyone thinking about starting a business, or who is currently in the early stages of running a business. I hope that these three 'stories' will guide you to make the best decisions possible and to avoid making mistakes that others have made.
If it's not working, change something
Why learn everything the hard way when you can turn to others in your industry or others that face the same challenges, and meet the problem head on before it's too late?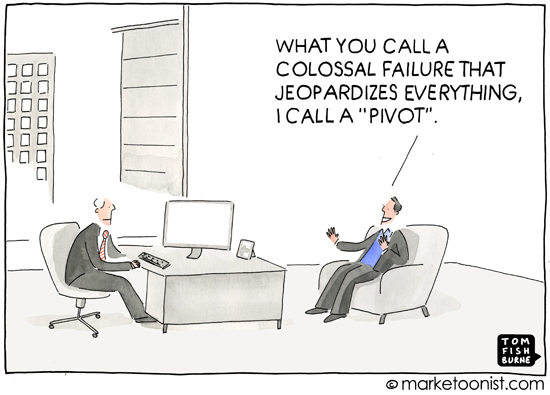 As a business owner, it's your job to keep watch over your company's health. As such, you should regularly be asking, "Is what I'm doing working?"
You should be asking this regardless of whether you operate an architectural firm, a waste management facility, or a cafe—and especially if you're not seeing results. If the latter is true, you need to make a choice: you either pivot, or you persevere.
The term "pivot"—as it relates to business—was coined by Eric Ries in his book "The Lean Startup."
"All a pivot is is a change in strategy without a change in vision. Whenever entrepreneurs see a new way to achieve their vision—a way to be more successful—they have to remain nimble enough to take it." – Eric Ries
Once you've built something, measured its effectiveness, and then established that it is or isn't working, that's when you need to make the choice. Pivot or persevere. Which one?
On the one hand, success can take time. In fact, Hershey chocolates would not be here today had their founder, Milton Hershey, not persevered. Milton's first three attempts to start and run a candy-making company failed. It was only his fourth attempt and the addition of a unique caramel recipe, that helped the "Lancaster Caramel Company" take off. After selling the company in 1900 for $1 million, he started the Hershey Company, which brought milk chocolate to the masses.
But, what do you do when things clearly aren't going anywhere?
In this instance, perseverance may well be the worst idea. When Groupon first launched in 2007, they were an activism platform called The Point. They had created a network designed to help people get together to solve a problem. The real problem, however, was that their platform didn't get much traction.
In an effort to try something new, the founders launched a simple Wordpress site, uploaded a number of coupons for the Pizzeria in their building, and then emailed them to people. Even though just 20 people redeemed the discount pizza coupon, the founders realized the significance of having made people take action. So, instead of sticking with the old model, they pivoted. Today, they are worth approximately $4.5 billion!
Your target audience is not everyone
As we've said above, if it's not working, you need to change something. In that same vein, I thought I'd give you a heads up: it's not going to work if you don't start out right to begin with. This is one lesson I did learn the hard way.  One of the most important things to get right before you start a business, and to keep in mind as you run your business and create new products or services, is that you need to define your target market. And, you need to be specific.
For the last 10 years I've been learning to make jewelry. Part of what I enjoy about this hobby is the challenge involved in figuring out how to market and sell it.
While I haven't turned my jewelry hobby into an actual business yet, I've used this hobby and my desire to do something with it eventually, as a platform on which I can build my business skills.
Four years ago, when I actually started selling my jewelry in shops, I knew very little about starting a business or about writing a business plan. To bridge this gap in my knowledge I decided to participate in Bath Spa University's annual business planning competition.
The competition was only open to university students. Fortunately, at the time, I was studying for my Creative Writing MA, so I was eligible to participate.
In order to prep us for writing a business plan, the University hosted a series of business planning workshops: startup basics, pricing and financial records, working with clients, and presenting with confidence.
I set to work. Executive Summary—leave until the end. Company Overview—fun stuff to write. Products and Services—right on. I'd been making them anyway, hadn't I?
Then I hit the target market section.
Define your target audience. Include details such as age, demographic, gender, etc. Go into as much detail as possible. Where do these people shop? What job do they have? What things interest them?
Well, I thought, I was making "cute" jewelry so my target audience was obviously women. And, realistically, I didn't have enough experience actually selling my jewelry, so the fact that older people tended to buy it at the time, was neither here nor there (as I saw it then). I decided to include everyone between the age of 15 and 50 with an interest in international cultures.
Looking back, I'm mortified by my naivety. The judges told me that they enjoyed my presentation and that the jewelry was beautiful, but that they didn't think it would sell. At least not in the UK, not unless I joined forces with African charities or adjusted my plan in some other small way. At the end of my pitch they asked me again, "Who is buying it now?" I stammered through an excuse. The truth was—I hadn't been selling long enough to answer this and I didn't think there was a precedent for the things I made. So, as I saw it, there was no market research to go off of. I was perfectly justified in not having a target market.
Wrong. There is always a way to identify your target market and to assess whether or not you actually have one. In fact, if you don't know your target market, the lean startup methodology is strongly recommended. This way, you will have time to learn what your customers want and still be nimble enough to make changes.
The reality is, I didn't actually pick a target audience. I just hoped that my "little men" would be cute enough and different enough to appeal to the judges on a purely emotional level. The thing is, they weren't out "shopping." They were there to judge my business plan and the viability of my business model.
The same thing will happen to you if you walk into a bank with your business plan, or if you hand it over to an investor. If your target audience is just about everyone, I'm willing to bet they won't invest. And, if you've been vague in other areas, the same.
Rosanna Mead, the girl that won the competition that year, had something I didn't—a very specific target audience and a brilliant idea. Her idea was to bring musicians into care homes and hospitals to play music to those with dementia. Can you get any more niche? She is now a corporate partner with the UK's Alzheimer's Society and runs her business, Musica (the very same one she pitched), nationwide.
Obviously I'm slightly envious of her success, but I'm also happy for her. It's inspiring to see that I was at least "beat" by someone who is now using her business to do good.
The lesson? Know your target audience. If you don't, take the time to learn it or to figure it out. This is just one of the reasons we advocate a "plan as you go" approach to business planning.
You don't need to justify EVERY decision
Beyond defining your target market and being open to the idea of change, one more lesson it's worth keeping in mind as you run your business is that it's not necessary to justify every decision you make.
Over the years, I've worked for people and for companies that have required lengthy justification before allowing me to do something. I've also worked for companies that have trusted me and given me free reign to explore the ideas I thought relevant.
The difference between these two approaches is immense.
In my experience, companies that put a premium on hiring intelligent people and letting them do their job as they see fit—rather than on creating policies to control their people—tend to have happier, more devoted, and more creative employees.
This makes sense, given that creativity requires an environment that encourages individuals to explore and experiment.
At Palo Alto Software, my team works in exactly the type of open-minded fashion most employees long for. We do plan, report on, and follow a general content strategy, but we're free to experiment both inside and outside of this strategy. Our COO uses the gentle guiding notion of "ask for forgiveness, not for permission."
Not only does this allow us to get on with our jobs without badgering him too much, but it lets us explore new ideas that could, in the long run, be beneficial to the company.
As marketers and writers, we're "creatives," and, for creatives, freedom is pretty important. If we had to justify everything we did, there would be no room to allow these new ideas, sometimes only vaguely related to our strategy, to develop as they often do, over time and as a growing hunch.
In fact, if managers and companies that let employees explore did not exist, the World Wide Web as we know it today also might not exist! It was only thanks to the freedom Swiss particle physics lab CERN allowed Tim Berners-Lee, that he was able, over the course of a decade, to work on his side project. Today, we refer to it as the internet. Back then, it was simply a network of minds and hypertext enthusiasts that helped him polish and build on his idea.
"Inventing the World Wide Web involved my growing realization that there was a power in arranging ideas in an unconstrained, weblike way. And that awareness came to me through precisely that kind of process…It was a process of accretion, not the linear solving of one problem after another." – Tim Berners-Lee
The company that requires justification for everything, on the other hand, is operating on a basis of fear. To their mind, if you do something that isn't related to billable hours, or that doesn't immediately positively affect revenue, you're using valuable resources, they're losing billable hours, and their reputation (as they see it) is at stake!
Great ideas don't often come about as a consequence of a regimented working environment. If you want to be great or you want your employees to be innovative, you need to learn to let go and trust. You need to set aside a budget for experimentation.
The moral of the art…
Yes, you might not pick the right target audience to begin with, but at least if you pick a target audience and get it wrong, you can adapt as you go. And, if you are open to experimentation, change and the occasional random decision, you're going to find it easier to come up with creative solutions to problems and you're going to have happier employees.
Share your own story with Bplans: how did you learn to manage your business better? What advice can you give others going into a similar industry? We would love to hear from you. Leave a comment below or email us your story.
All cartoons are used with permission from the artist, Tom Fishburne.