Looking for a free, downloadable hair and beauty salon sample business plan Word doc or PDF to help you create a business plan of your own? Bplans has you covered.
Keep in mind that you don't need to find a sample business plan that exactly matches your business. Whether you're launching an upscale, full-service salon in a bustling city or a neighborhood barbershop, the details will be different, but the bones of the plan will be the same.
Are you writing a business plan for your salon because you're seeking a loan? Is your primary concern building a clear roadmap for growth? Either way, you're going to want to edit and customize it so it fits your particular company.
No two salons are alike. Your business model will be different if you're renting space to independent hairstylists, rather than taking on employees, for example. So take the time to create your own financial forecasts and do enough market research so you have a solid plan for success.
What should you include in a hair and beauty salon business plan?
Your hair and beauty salon business plan doesn't need to be hundreds of pages—keep it as short and concise as you can. You'll probably want to include each of these sections: executive summary, company summary and funding needs, products and services, marketing plan, management team, financial plan, and appendix.
One of the things that makes a salon business plan different than some other service-based business plans is that you might decide to offer a combination of products and services.
Maybe you'll sell shampoo, beard oil, or other cosmetics and beauty products, in addition to offering services like haircuts, manicures, or massages. If that's the case, make sure you include your ideas for upselling products to customers to increase the value of every appointment you book.
Here's an example of a salon business plan outline.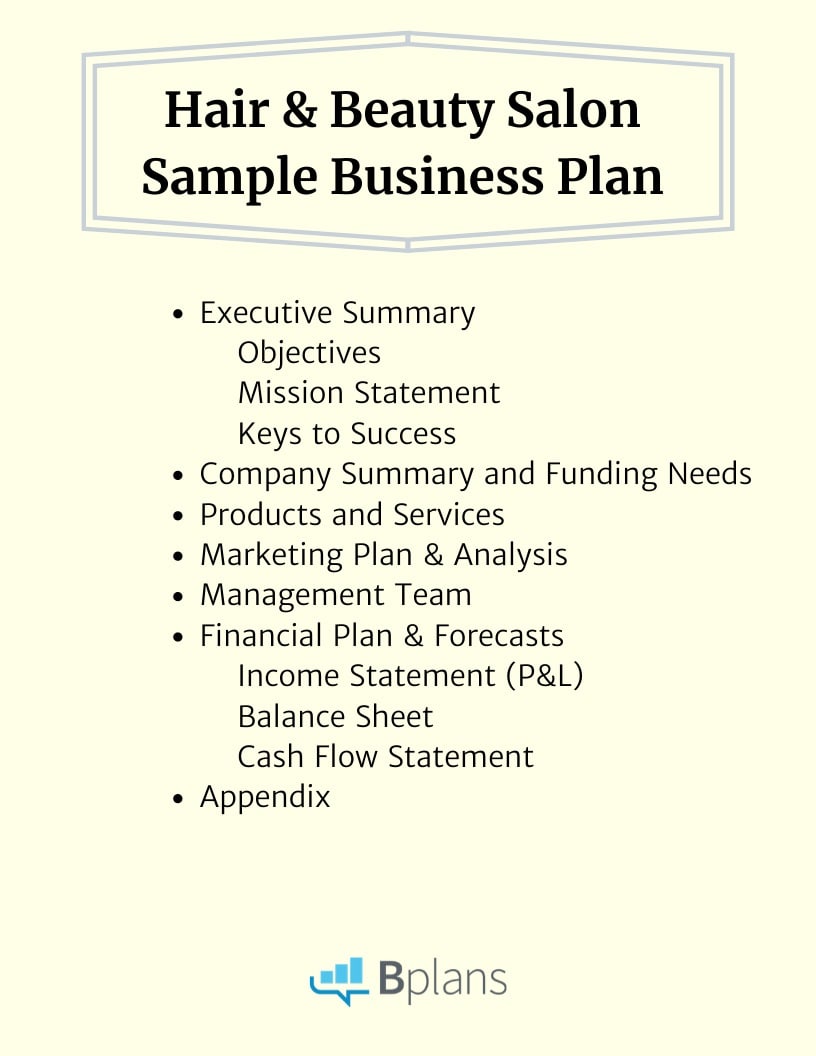 The 7 elements of an effective hair and beauty salon business plan
1. Executive Summary
The executive summary provides a high-level overview of your business plan. It should outline the objectives of your hair and beauty salon, such as to offer high-quality services, to expand the client base, or to break into a new market.
Your salon's mission statement should describe its purpose and what sets it apart from competitors. For example, you may aim to offer a personalized experience for each customer or provide eco-friendly hair and beauty services.
The keys to success are the factors that will help your salon thrive. These may include a prime location, hiring experienced staff, excellent customer service, or a unique product and service range.
2. Company Summary and Funding Needs
The company summary offers a detailed overview of your salon, including its legal structure, location, and history. Also, it highlights your salon's funding needs if you are seeking financial support.
Clearly state how much funding you need, what you will use it for, and how it will benefit the salon. For instance, you may need funds to renovate the premises, purchase equipment, or boost marketing efforts.
3. Salon Products and Services
This section should detail the products and services your hair or beauty salon will offer. These may include haircuts, hair treatments, manicures, pedicures, massages, and beauty treatments. If you plan to retail beauty products such as shampoos, conditioners, or skin care items, include this information too. Highlight any unique services or products that differentiate your salon from competitors.
4. Salon Marketing Plan and Analysis
Your marketing plan should outline the strategies you will use to attract and retain customers. These strategies might include social media advertising, loyalty programs, partnerships with local businesses, and special promotions.
Additionally, you should conduct a thorough market analysis. Understand your target customers, their preferences, and their spending habits. Identify your competitors, their strengths and weaknesses, and how you can differentiate your salon.
5. Salon Management Team
The management team section provides information about the salon's key personnel. This could include the salon owner, managers, stylists, beauticians, and other staff members. Highlight their roles, responsibilities, qualifications, and experience.
If you plan to rent chairs to independent stylists rather than hiring employees, describe how this arrangement will work and the advantages it offers for your business.
6. Financial Plan and Forecasts
Your financial plan should present detailed financial projections, including revenue, costs, and profitability. Include a cash flow statement, income statement, and balance sheet. This section should clearly demonstrate the salon's potential profitability and financial viability.
Also, outline your pricing strategy. How have you priced your services and products, and how do these prices compare with competitors? What are your wage costs, and how will they affect your profitability?
7. Appendix
The appendix includes any additional supporting documents that complement your business plan. This might be market research data, lease agreements, employee contracts, or licensing and permit documents. While not always necessary, the appendix can provide valuable context and proof to support your business plan's content.
Crafting a Successful Salon Business Plan: Key Considerations
Understanding your target clientele's needs is crucial to writing a hair or beauty salon business plan that you can put into action. To make sure your business plan is the foundation of a growing operation rather than just checking boxes, ask yourself whether you're taking these considerations into account.
1. Comprehensive Services Offering
In the beauty industry, customer preferences vary significantly, and staying versatile in your offerings can help cater to a broader clientele. Include a wide range of services that cater to different demographics. You may also consider offering unique or specialized services that distinguish your salon from others.
2. Pricing Strategy
Pricing can make or break your salon. Competitive pricing attracts customers, but your pricing should also cover your costs and ensure profitability. Effective market research can help you understand the average cost of services in your area, which you can use to set your prices competitively.
3. Salon Atmosphere
The ambiance of a salon plays a significant role in attracting and retaining customers. Consider factors like décor, cleanliness, and customer service when planning your salon.
4. Staff Training and Expertise
Quality service is crucial in the hair and beauty industry since word-of-mouth exposure from existing clients is a major driver of new business. Investing in ongoing staff training ensures that your team stays updated with the latest trends, techniques, and customer service skills.
5. Digital Presence
Although word of mouth is one business driver, many of today's customers research online before visiting a salon. Having a strong online presence, including a well-designed website, effective search engine optimization and active social media accounts, can significantly boost your business.
Download your free hair and beauty salon sample business plan PDF
Download this hair and beauty salon sample business plan PDF for free right now, or visit Bplans' gallery of more than 550 sample business plans if you're looking for more options.
There are plenty of reasons salon business owners can benefit from writing a business plan—you'll need one if you're seeking a loan or investment. Even if you're not seeking funding, the process of thinking through every aspect of your business will help you make sure you're not overlooking anything critical as you grow.