Looking for a free, downloadable hair and beauty salon sample business plan Word doc or PDF to help you create a business plan of your own? Bplans has you covered. 
Keep in mind that you don't need to find a sample business plan that exactly matches your business. Whether you're launching an upscale, full-service salon in a bustling city or a neighborhood barbershop, the details will be different, but the bones of the plan will be the same. 
Are you writing a business plan for your salon because you're seeking a loan? Is your primary concern building a clear roadmap for growth? Either way, you're going to want to edit and customize it so it fits your particular company. 
No two salons are alike. Your business model will be different if you're renting space to independent hairstylists, rather than taking on employees, for example. So take the time to create your own financial forecasts and do enough market research so you have a solid plan for success. 
What should you include in a hair and beauty salon business plan?
Your hair and beauty salon business plan doesn't need to be hundreds of pages—keep it as short and concise as you can. You'll probably want to include each of these sections: executive summary, company summary and funding needs, products and services, marketing plan, management team, financial plan, and appendix. 
One of the things that makes a salon business plan different than some other service-based business plans is that you might decide to offer a combination of products and services. 
Maybe you'll sell shampoo, beard oil, or other cosmetics and beauty products, in addition to offering services like haircuts, manicures, or massages. If that's the case, make sure you include your ideas for upselling products to customers to increase the value of every appointment you book. 
Here's an example of a salon business plan outline.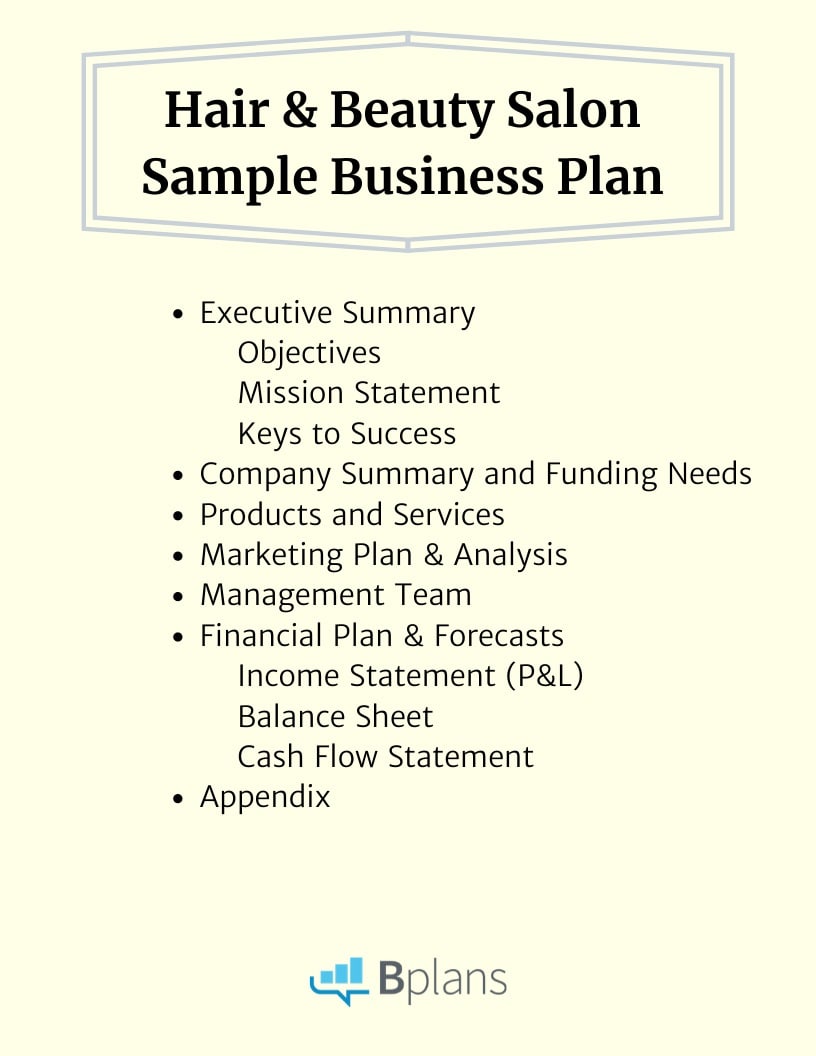 Download this hair and beauty salon sample business plan PDF or  this editable Word doc  for free right now, or visit Bplans' gallery of more than 500 sample business plans if you're looking for more options.
There are plenty of reasons salon business owners can benefit from writing a business plan—you'll need one if you're seeking a loan or investment. Even if you're not seeking funding, the process of thinking through every aspect of your business will help you make sure you're not overlooking anything critical as you grow.