Google+ can be a valuable part of your small business's marketing strategy. G+ features a number of powerful tools that are rich in search engine optimization (SEO) and brand-building benefits unrivaled by any other platform.
That said, hurriedly setting up a barebones page and calling it a day isn't going to do the trick. You've really got to know the platform and develop a clear and consistent strategy to do things right.
To get going, we highly recommend taking a read through this extensive guide to Google+. Below, we discuss a few more key insights for optimizing your Google+ page for success.
Optimize your page for search results
The "Google" in "Google+" means that having a presence on G+ comes with a number of SEO benefits—if your page is optimized to encourage them.
1. Fully complete your business "about" page
Completing your "About" page with a full, keyword-rich (but not keyword-stuffed) story, and all of your business's most important details, will be as good for SEO as it will be for branding. A few things you'll want to do:
Use a keyword in your tagline. Your tagline is what will show up in Google search so make sure that it's compelling and relevant, all within the 10-word limit.
Write an interesting yet concise introduction. Whether it's the story of how your business was founded or a quick summary of what you do, it's important that readers walk away from your intro with a clear idea of who you are and how you might fit into their lifestyle. A few keywords wouldn't hurt here, either, though again you'll want to make sure they're as naturally used as possible.
Add links to your other pages. The Google bots reward pages that are well-linked, and customers will want to easily connect with you on their favorite spots, so don't forget to add links to your website, your YouTube channel and all of your other social media pages. You might also swap out the link to your main page with landing pages you want to feature for a marketing campaign.
Use your full contact information. This includes your address. Doing so will automatically populate your "about" page with a Google map, making your profile a one-stop destination for all a consumer needs to know about how to frequent your business.
Need inspiration? Take a look at how King Arthur Flour does it. Their tagline clearly communicates what they do and what they believe in, their introduction positions the company as a helpful baking resource, and the links provided help customers easily plug into their entire social media presence. 
One more profile tip for pros:
Add a rel="publisher" tag to your website. Google search may like your homepage link on your "About" page, but it will like it even more if it can verify that it's officially yours. Adding a rel="publisher" tag will do just that, while also ensuring that you come up in the sidebar during search. Your page will also be eligible for Direct Connect, the service that allows searchers to find you simply by typing a "+" and your name into their browser address bar. To add the rel="publisher" tag, follow the instructions that Google lists here.
2. Claim your Google Local page
Google Local is a great service for brick and mortar businesses, as it helps you turn up high in search results for your business category around your local area. Even better, Google Local comes with user reviews, maps, and Zagat reviews, so any potential customer has all of the information they need immediately presented in the search results.
Whether you've claimed it or not, you probably already have a Google Local page with customers leaving reviews. You can find out by Googling your business name or phone number and seeing if your listing comes up in the side bar: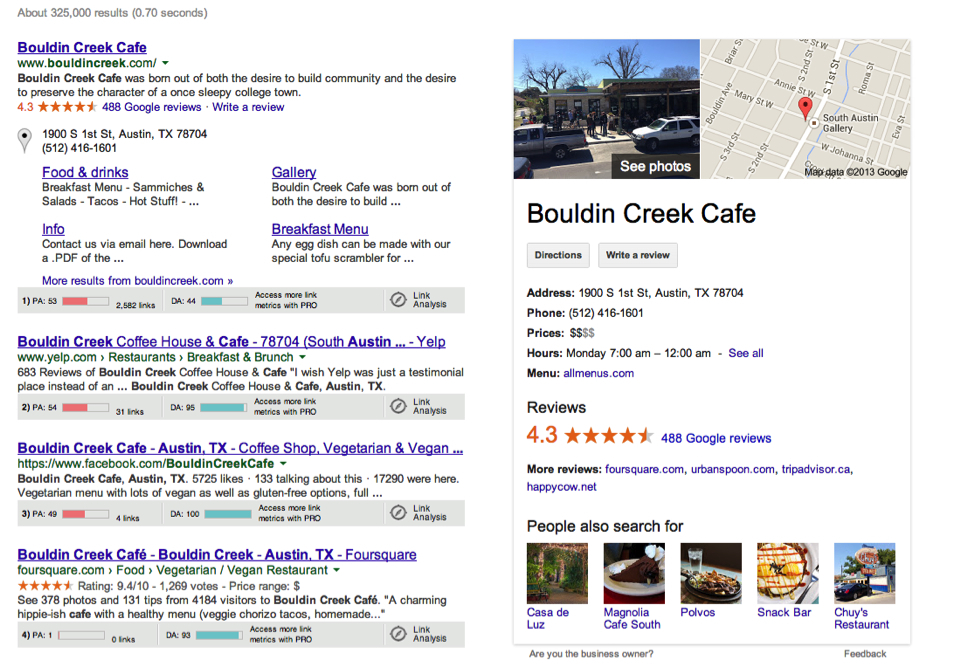 You can tell that Bouldin Creek Cafe has yet to claim their page, as it says in tiny grey text at the bottom of the right hand listing, "Are you the business owner?" The owner could claim this listing just by clicking on this text and going through the verification process, but that wouldn't necessarily merge this local listing with the company's G+ page, which is something you will want to do with yours (right?).
We instead recommend doing the following to claim your local page:
Sign into Google+.
From the pulldown menu under the red g+ symbol in the top left of your dashboard, choose "Pages."
Then choose "Local Business or Place."
If you're a new business, you can simply create the rest of your page from there by filling out all of the appropriate information.
If customers have already been leaving reviews for you and a Local page was by default created, choose your business from the dropdown menu.
Hit "Submit".
Determine whether you'd like your verification code sent to you via postcard or text message.
Once you've received your code, verify that this business is yours.
Voila! You're ready to go.
Optimize your posts and page for sharing
It's all well and good to attract customers to your G+ page, but your efforts won't have much effect if there's nothing there with which to engage. And if customers (or potential customers) do find something great, they should be able to share it with their entire online network without even having to think about it. Here are a few ways to ensure your posts are optimized for sharing.
1. Get great content
Make an editorial calendar. To guarantee that you've always got something interesting on your page, plan out a content editorial calendar for the coming month. Your content can be published on an external site and simply shared on G+ feed, or you can publish it directly to your page.
Vary the types of content you create or share. Blogposts, photos, videos, infographics—all of these different types of content are great for sharing, particularly if you stick to topics that you know will be relevant to your audience. These can vary from how-tos to expert tips to a quick video glimpse into the inner workings of your office or production process.
Make it visual. The internet in general is a highly visual medium, and with its Pinterest-like layout, G+ is all the more so. That means that your written content will do particularly well when it's accompanied with a video or photo. 
2. Share your content
Use keywords in your posts. Notice a theme here? One of the best ways to get your content found is to use your keywords in your post—but only if they're relevant to what you're sharing.
Add hashtags. Adding a # before keywords is also a great idea, as it will help users find your posts more quickly both now and in the future. You can also use Google Trends to piggyback on currently trending topics. Once your post is written, just add a hashtag in front of a relevant trending term and you'll show up in the "What's Hot" section of G+, exposing your work to a much wider audience.
Choose your Circles. Once you've got your content ready to share, it's time to choose who to share it with. Do you want to make this post public, email certain influencers directly, or share it with one of your Google+ Circles (your Google+ followers organized into groups, either by relationship to you, such as "Family", or by interests, like "Entrepreneurship")? Any of these options can work great, as long as what you have to say is relevant to the group(s) you choose to share it with. The great thing about Circles is that, should your business straddle several niche interests, you can separate your followers into appropriate Circles and give them only the content they'll be interested in.
3. Promote your page in the community
On your website. Every page of your website should have G+ icon directing customers to your page, and every blogpost should have a +1 page so readers can share content with their circles without leaving the page. Google provides information on how to create a badge here. Instructions for a simple +1 button are available here.
On other social media sites. Just as you added your other social media sites to your G+ "About" page, make sure to add the link to your G+ page to all of your other social media profiles, so followers can easily link in to all of your online offerings.
In-person. The cash register is a great place to display a "Follow us on G+" sign, as is a booth during any conventions you're headed to. Make sure you sign up for Direct Connect so you can get yourself a customized, easy-to-remember custom URL.
In online conversations. The best way to spread word about your page is by interacting with potential customers or other industry experts online. This is something you can easily do by dropping in on contacts via Circles, or participating in community discussions. In offering thought-provoking discussion, you'll impress your contacts and they'll want to click on your business page.
In a Hangout. Another great way to engage followers and spread your G+ page around the internet is to host a Hangout. A Hangout is like a video conference with lots of fun add-ons like special effects as well as full integration with Google Drive, so you can make presentations right in screen. With Hangouts, you can connect with your current customers or with new ones, whether by discussing an issue directly relevant to your business or just a topic of interest within your field. Doing so will both confirm relationships with customers and help establish your expertise within a wider field—all the more so if you host a Hangout on Air, which automatically archives to YouTube for later viewing. To host a Hangout on Air, choose "Hangouts on Air" from your homepage menu. Then click "Host a Hangout on Air", choose who you'd like to invite, and get hanging!
The takeaway
With the right approach, the Google+ can help you grow your customer base and really seize new market opportunities. But it won't do any of that for you unless you really take the time to master the platform. Then it's time to get creative and push your G+ presence to the max. Good luck!