Question: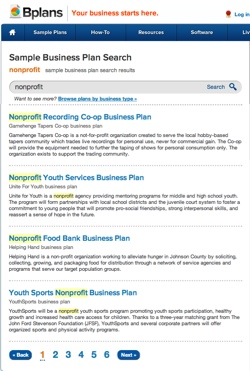 Do you have a template for the particular issues and approach that a nonprofit business plan would require?  Or, do you know of an alternative source that would have such a business plan?  We are looking to build and operate a no-frills seniors residence for low-income seniors.
My answer:
Yes, we have lots of examples. Try this
search: https://www.bplans.com/business_plan_search/?search=nonprofit
They're just examples, though, use them for inspiration, not content. Every business plan is unique. There are some common issues and approaches that apply to nonprofits, but your specific issues, in your specific plan, are much more important.
A nonprofit plan is a business plan. The objectives are different than with for-profit, but the strict is the same. You need to help yourself think through strategy and steps to execute strategy. That leads to concrete specifics like tactics, activities, responsibilities, task assignments, metrics, accountability, dates, deadlines, and real numbers for money in and money out. The most effective nonprofit executive I ever met said one of the biggest mistakes nonprofits make is not planning their organization carefully.
The biggest difference between the common nonprofit plan and regular plans is that the revenue in the nonprofit plan often comes from donations. So the equivalent of business offering is your service, your reason to exist, but, unlike a regular business, your funding doesn't always come from selling what you have to offer. So you need to plan funding as a matter of fund raising, donations, etc.
Spending, marketing, delivery, fulfillment, administration … those need planning in a nonprofit just like in every other organization.
And like always, I'm talking about planning, not just a plan. Don't look for a plan as if having a plan solves anything. You need to have a plan you can live with, review, revise, and manage, not just a plan.
Best of luck to you. I hope you can help those low-income seniors.
Donation image on main page courtesy of Shutterstock