You're invited to take the SWOT analysis challenge—see if you can complete all five steps in five days or fewer! Then invite your network to do it too. Share this article on LinkedIn, Facebook, or Twitter and use the #SWOT hashtag.
If you're looking for the rest of the steps in the series, find them here:
If you've completed the first four steps of a SWOT analysis, your SWOT matrix should be complete. Congratulations! Now it's time to take the ideas and information in your analysis and use them to create actionable strategies to guide your business. Here's a quick overview of how to do it.
Before you develop actionable strategies:
Your SWOT matrix should be complete.

At the beginning of the challenge, you probably downloaded the

SWOT matrix template

. It's easier to use if it's in this format rather than on separate pieces of paper or computer files.

Look at other examples.

If you haven't done so already, take a look at a few completed SWOT reports so you know what yours should look like. Here are a few

SWOT examples

you can look at.

Use bullet points.

Everything listed in your analysis should be in a bulleted format. You don't need complete sentences.

Boil down each point.

Each bullet point should be short—a few words will do. If you need to, simplify your points.

Refine your information.

If you came up with a healthy list for each of your strengths, weaknesses, opportunities, and threats, it's time to refine the information. Check for redundancies, combine bullets where necessary, and eliminate any information that isn't vital.

Prioritize your information. It's time to go through each section and rank the information. Put the most important or pressing item on top of each square.
From SWOT analysis to TOWS analysis
A list of strengths, weaknesses, opportunities, and threats makes for a handy business guide, but you'll want to take this exercise one step further to create strategies and plans to improve your business.
The exercise you're about to do is called a TOWS analysis. It helps you make connections between each quadrant of your analysis. You'll work around the square, combining information from two quadrants to create actionable strategies.
Here's how:
Strengths–Opportunities.

Use your internal strengths to take advantage of opportunities.

Strengths-Threats.

Use your strengths to minimize threats.

Weaknesses-Opportunities.

Improve weaknesses by taking advantage of opportunities.

Weaknesses-Threats.

Work to eliminate weaknesses to avoid threats.
The chart below is a great visual explanation of the TOWS exercise:
As you answer these questions, you'll start to create actionable strategies. For example, if one of your strengths is an experienced grant writer on your team, you should put that person in charge of taking advantage of new federal grant opportunities that are available this year. That's a strategy that you can implement immediately to improve your business.
You can simply add a few blocks to your SWOT analysis to get these strategies down on paper. Here's an example of a completed TOWS analysis from the University of San Francisco, which shows a TOWS analysis for Volkswagen. It shows you what the exercise looks like and gives you an idea of the strategies that can come from this analysis.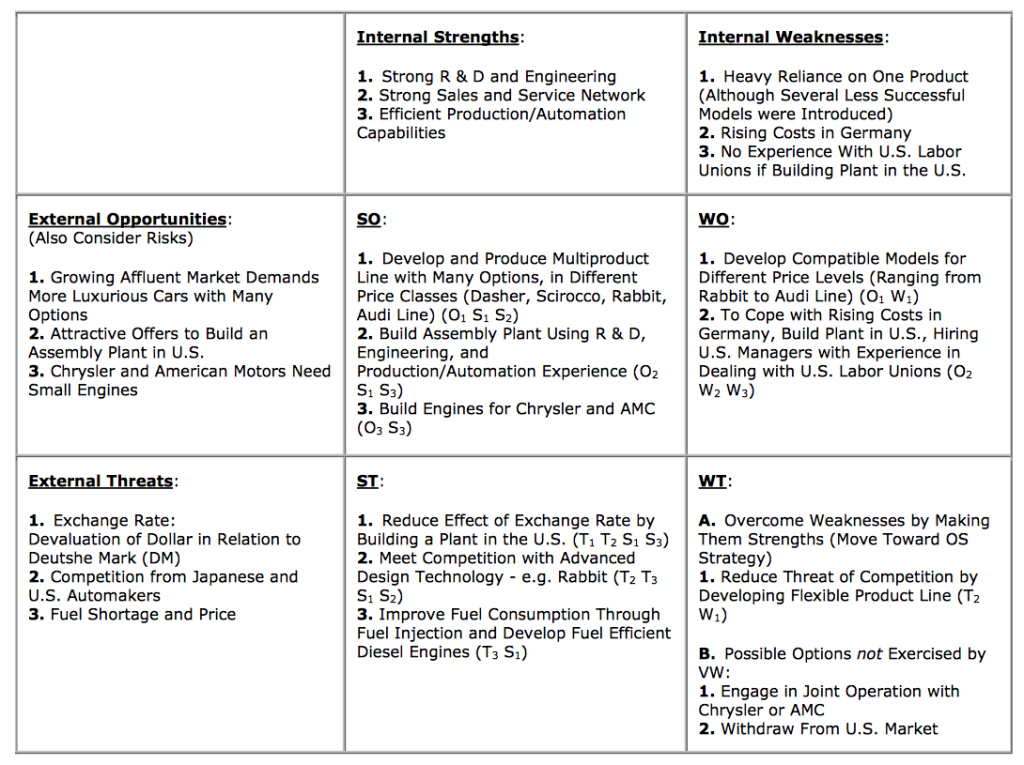 Your finished product
When you're finished with the SWOT and TOWS analysis, you'll have an insightful look at your business that's accompanied by a list of strategies that you can implement to better your business.
Take this list of strategies and start implementing them. If some strategies are long-term plans, break them into steps with specific milestones and put each one on your calendar so you can implement the change over time.
Now that you have this business resource, you'll want to keep it handy. Hang it on your office wall, or keep it on your desktop so you can reference it throughout the year as you make decisions. Your hard work will pay off.
Aside from strategic plans, here are additional benefits from your participation in the SWOT challenge:
Improved focus.

This analysis should put everyone on the same page. It identifies what you should be working toward this year.

Strategic alignment.

With everyone working on the same goals, managers and employees can build better strategies together.

Identify unknown aspects.

You'll likely discover aspects of your business that you didn't know about. From unknown strengths to hidden threats, uncovering this information will help you move forward.
If you are one of the many business owners who set aside time to finish each step of your SWOT analysis, we'd like to congratulate you. You have made great strides toward improving your business this year.
We'd love to hear how the process went for you. What did you learn? How will your SWOT analysis help you make effective business decisions? Tell us on Twitter @Bplans.
Editor's note: This article was originally published in 2015. It was updated in 2019.